publication date:
Dec 29, 2015
|
author/source:
Guest article - Steve Lucas
The stresses and strains of being an estate agent - Part 2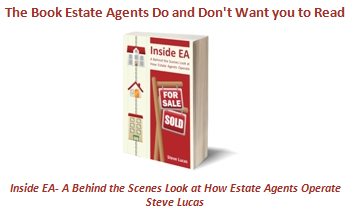 Few people hold estate agents in high esteem. And depending on your own experiences, you may like or loathe them. However, the industry's less than favourable reputation often overshadows just how stressful a job estate agency can be.
The process of buying or selling a property can be a testing time for anyone and being humans, we all handle it in different ways – some better than others. So with that in mind, here's a collection of stories from the other side of the estate agent's desk, about how a few buyers and sellers managed to raise the blood pressure of everyone who dealt with them.
Read - Buying and Selling Property Checklists
Pushy Sellers
Every now and then, we'd get a member of the public who felt they knew enough about selling houses to tell us how to do our job. One such example was the woman selling a vacant house she'd previously rented. We introduced a young couple to the property who were chain-free and had agreed to pay the asking price for it. Solicitors were instructed and letters were sent to all parties confirming the sale.
The next day, the seller called to ask if we'd heard from the buyers' surveyor. I explained that it was a bit early, and we'd chase up on that in a few days. "Well, please do, as I don't want any unnecessary delay," said the seller in a polite yet assertive manner. At least the seller was really motivated, I thought.
Read - Buying and Selling Property Checklists
Two days later, I telephoned the buyers, and they told me that they were meeting with their bank the next day to finalise their mortgage application and submit the survey/valuation fee. Everything seemed to be moving along quickly, but our client still wasn't content. She telephoned the office daily to ask if we'd heard from the buyer's surveyor. At one point she even complained to the office manager saying she'd bought and sold several times before and felt we weren't pushing the buyers enough.
A week after the sale was agreed we received a call from the surveyor's office asking if they could inspect the property three days later. Even this didn't sit well with the seller, who still complained as to why the surveyor couldn't visit sooner.
Read - Buying and Selling Property Checklists
The survey was carried out, and the buyers called to say that they were in receipt of the report and happy with its contents. They also asked if it was possible to visit the property with their builder in order to get estimates for the improvements they planned. I telephoned the seller, keen to give her the good news. The lady answered the phone, and before I could finish my sentence, she said, "I'm sorry, but I've decided not to sell. Please pass on my apologies to what's their name!" And just like that, she put the phone down and the buyers were several hundred pounds out of pocket and as bemused as we were.
To get to understand the world of estate agents which nobody really sees Read Steve's book
For part one of this series click here:- The stresses and strains of being an estate agent part 1