What is the hometrack price report telling us about 2018?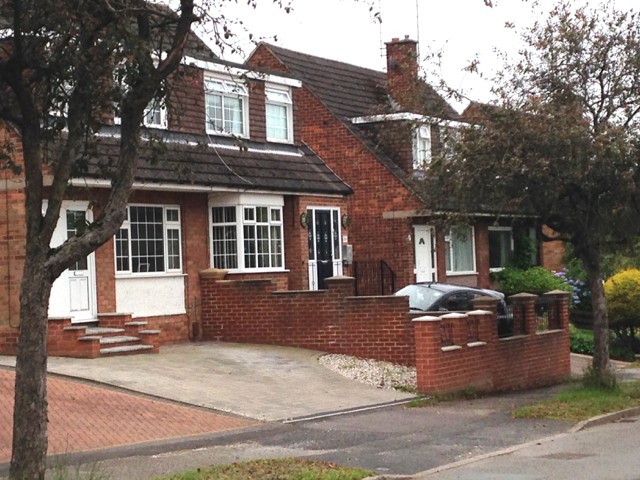 There are many property price reports telling us what is happening in the market, but one of the most insightful in my view is the Hometrack report.
Their latest data tells us:
Despite talk of a market in the doldrums, Hometrack's UK Cities index shows house price inflation has increased from 4.9% since November 2016 to 6.3%.
And although the Southern England slowdown has dominated the headlines, there is 'robust demand for housing' in other regional cities. Here are the top 10 growth areas: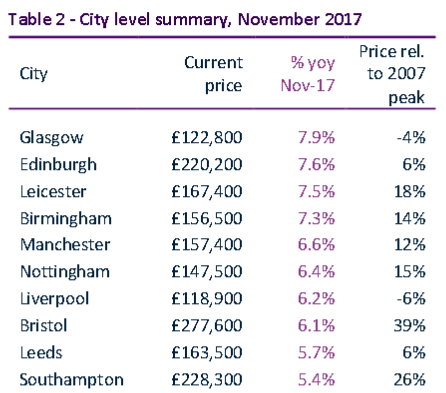 But, let's not get too carried away. The chart also shows that only two cities – Bristol and Southampton – have seen property price growth which has kept up with the 27% inflation we've experienced. And, for Glasgow and Liverpool, prices 'on average' are still lower than they were 10 years ago.
Their charts on stock turnover show regional recovery versus the Southern slowdown: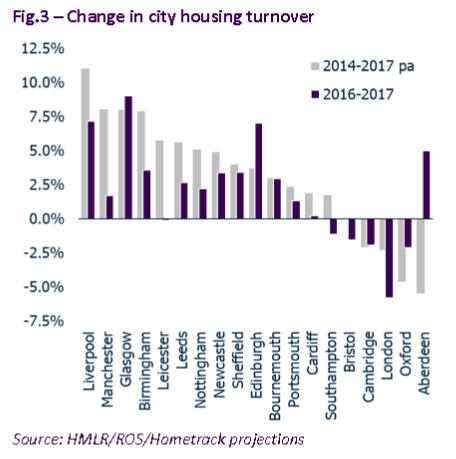 What do Hometrack think the property market will do in 2018?
Overall, they expect around 5% of house price growth nationally across our cities, but this will be made up of lots of different rates of growth – and some falls.
More usefully, they split the market into two, the London market and the 'regions':
Regionally
Hometrack "expect regional cities to continue to deliver above average house price growth in 2018".
London
The big question being asked here is whether there will be a market correction? There is no doubt that demand has softened in London and the South East, but this is after double-digit price growth, in the main, since 2013. As a result these falls could be classed as 'affordable' unless people who have bought recently need to sell.
Currently they report that seven of the 45 local authorities that comprise the London City index are registering year-on-year price falls in nominal terms (ie not taking into account last year's 3% inflation).
Overall they predict:
London house price inflation will remain in low single digits over the course of 2018.
Rather than seeing a correction through big falls, they suggest London will have a "drawn-out period where house prices and earnings need to re-align." However, they are expecting the correction will show "single-digit real house price falls over several years on lower sales volumes."
If Hometrack are right, what does this mean for you?
Renters
It's a good time to save via the Help to Buy ISA/lifetime ISA and have a plan to see if you can afford to buy a home over the next few years, if that's what you want to do. Those wishing to buy in London may be able to buy a property elsewhere to take advantage of regional price increases which may help you build equity to put towards a deposit in the capital in the future.
Having said that, if you just want to continue to rent, this is typically cheaper annually than buying and you can invest the savings into a Help to Buy Scheme to allow you to save for a deposit in the future.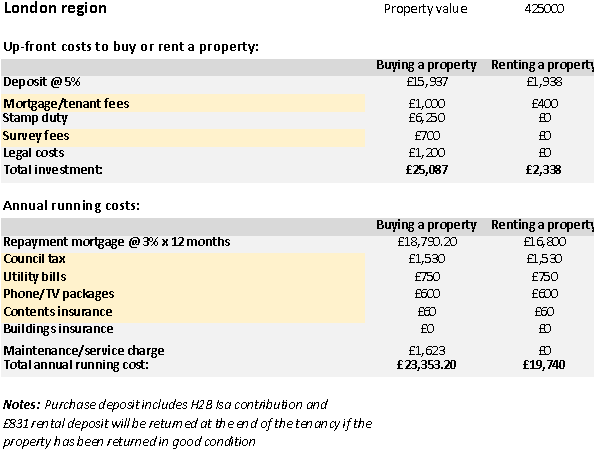 First-time buyers
Now could be a good time to get on the ladder as there are likely to be fewer buyers, so for those who were fed up with going to viewings alongside 20 other people, hopefully in 2018 this is less likely. It's worth looking at the Help to Buy Scheme, but be aware that you will probably have to hang onto the property for at least five years to make sure you have additional equity and the value may slump in the first few years.
The trick is to balance the low cost of mortgages, a free five-year loan and owning your own home versus renting, but if you have thought you would never get on the ladder, now is the time to reconsider whether this is possible.
If you can't afford a property at full value, do check out shared ownership, as there are lots of properties coming onto the market.
Help for would-be buyers:
Trading up
2018 should be a good year for you as long as you price and present your property properly. The trick is to secure a sale on your property first, then look at buying, ideally with cash in the bank to get the best deal and/or to be 'front of the queue' for properties available.
Don't forget the Help to Buy Schemes are not just for first-time buyers, so if there are some good new build schemes in your area and you haven't gained much equity on your own property, then this might be a good option to investigate.
Trading down
If you are looking at trading down, hopefully you will have a good deal of equity in your property, so you need to shift away from worrying about getting the best price for your property and getting a 'good deal' for the one you buy, to getting the right property for you that suits your ongoing needs.
I spent many a year carrying out part exchange deals with people who didn't do this and ended up selling their property for less than they could have done if they had accepted a fair offer. Others became ill during the buying and selling process, meaning they missed time they could have had enjoying a new life in a more affordable and manageable home.
For more help and information, it's really worth building relationships with good local agents such as Your Move, Reeds Rains, Savills, Belvoir, Northwoods, Newton Fallowell and Hunters to make sure you price your property properly and get help finding a suitable new home.
Also, if you haven't already, talk to an independent financial adviser such as Chase de Vere to understand what cash you need for the future and make sure you have a financial plan that means you can stay in your new home, whatever the circumstances.
Property investment
This is always an uncertain world, but bizarrely one that people still believe is a 'surefire way' of making money! It isn't. With a much harsher taxation environment for property investors, especially those investing in buy to let, the balance between what housing can deliver versus financial investments has definitely tipped in favour of the latter – if you don't do your research and work out your returns correctly.
Property prices are not predicted to increase in line with inflation for many areas, so mortgaging your investment to mitigate this is worth considering. Those buying and owning on-going with cash are likely not to make the money they could, depending on the deal originally struck.
Property investment is not for the faint-hearted now and the 'accidental' purchase or one which isn't well thought through is unlikely to deliver and could well lose you money.
As such, make sure you aren't taken in by 'below market value deals' and 'guaranteed returns' as well as a lot of expensive and in my view unnecessary 'mentoring' programmes; these guys are going to get aggressive over the next few years as they struggle to make money on their own investments or find the deals they promise – having already taken people's cash.
For more help and advice, make sure you:
Review your portfolio

Research carefully any new purchases

Seek financial advice from an IFA and a specialist property tax adviser
Shows worth visiting:
Need help and advice?
We are here to help you navigate through the choppy property markets and often complex projects, so just ask for help.