What's happening to property Scotland?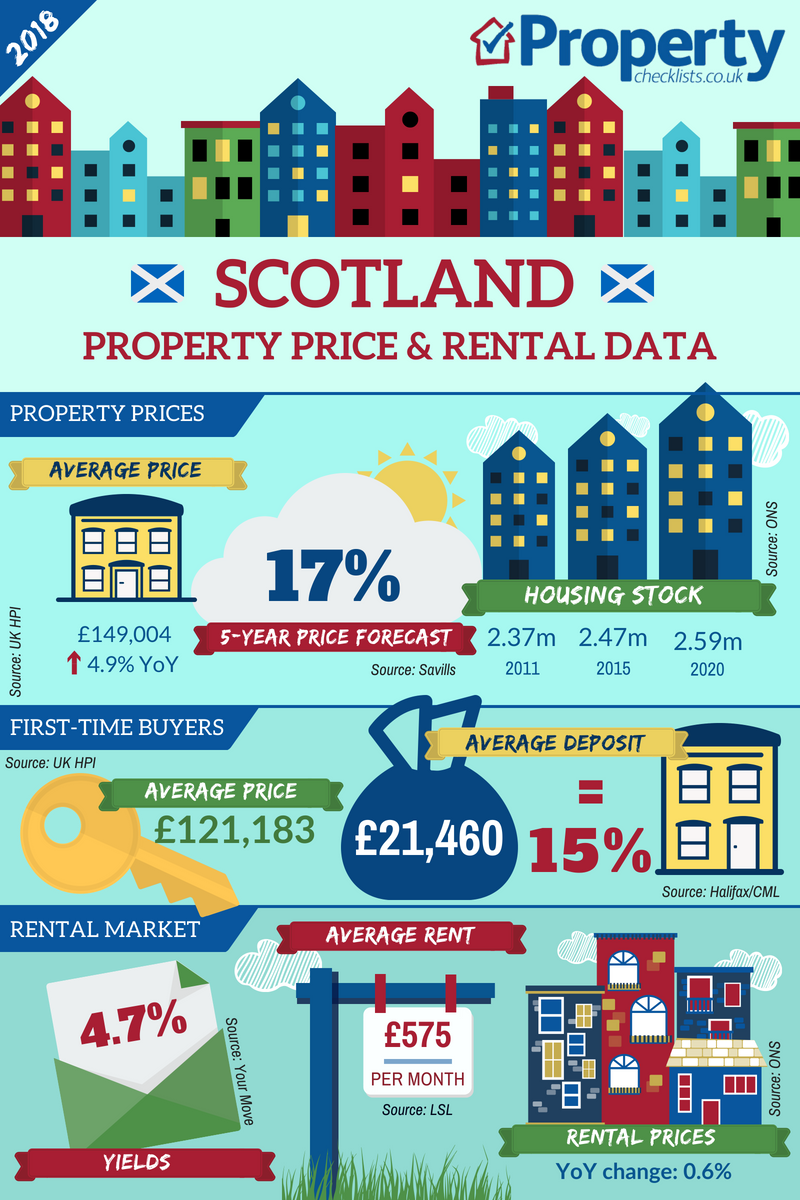 LSL Acadata HPI "The market gathered its breath in Scotland in April, with monthly price growth slowing to the month before and a peak of 1.7% in February"
UK HPI "Scotland house prices grew by 4.9% in the year to May 2018, down from 5.5% in the year to April 2018. Scotland house prices are growing quicker than the UK annual rate of 3.0% in the year to May 2018"
RICS "The Newly Agreed Sales data is displaying a little more monthly volatility at a country/regional level but the South East is showing the most consistent negative set of results with London not far behind. At the other end of the scale, the feedback for Northern Ireland and Scotland suggests these two areas are displaying greater resilience."

Source: UK HPI
Year on year the figures for Scotland look good compared the rest of the UK, with growth of 4.6% for flats through to 5.6% for terraced homes. However, it's important to bear in mind that over time the figures are nowhere near quite so rosy. Having seen falls of 14% to 18.5% during the credit crunch, the recovery since 2009 has been almost non-existent with property prices still, on average, just 2% higher than they were a decade ago in 2007. And property prices for many may not even have recovered, leaving some in negative equity. Those with detached homes have fared much better, being 11% higher than they were 10 years ago, while flats are still recording an average of 4% below. This is likely to be due to what appear now to be overpriced city centre flat developments in areas such as Glasgow in particular. Some flats I've seen have been selling out for a lot less than they were in 2007; one I found sold in 2007 for just over £97k and has sold in 2018 for £77k. I often talk about how property prices are bespoke to an area and 'averages' and prices for properties in Scotland are absolutely no exception!

Source: UK HPI
In most areas, there are some differences in property price growth, but the difference across key cities in Scotland is vast. Edinburgh is really driving the average prices up. It's an incredible city, but one very short of stock versus demand and, as with London, it attracts some very high paid jobs which means property prices have been driven upwards, albeit at 11% over the last 10 years, versus London's rise of around 62% while Glasgow and Dundee are hardly seeing a change in prices over the last decade, and Falkirk is showing a small increase. Year on year the picture is a little cheerier with growth varying from Dundee's 5.4% through to double-digit 10% in Edinburgh. However, this growth spurt isn't expected to last, suggesting that in the main, capital growth in Scotland has been severely curbed since the credit crunch on average. Some of those lucky enough to purchase at the low of the market in 2009 will have seen some great growth and hopefully that will allow them to move up the ladder, helping to generate more movement in the market.
The exception to this is Aberdeen which, like most cities in Scotland has its own local economy driving prices (and rents). Normally Aberdeen bucks the trend when it comes to price and rent rises, always rising at higher rates than anywhere else and it's an area that didn't even really suffer that much when the rest of us were seeing huge falls during the credit crunch. However, over the last few years, the sustained loss of revenue in the oil industry has meant the economy has suffered and when people's jobs and company's revenues and profits aren't performing, so the property market under performs. This is why Aberdeen is now seeing prices 7% lower than they were in 2007 and still 3% lower year on year.
First-time buyers in Scotland
The good news for anyone thinking about buying for the first time in Scotland is that you can, with the average price paid being just over £120,000 – and you don't even need to spend that much; those in Glasgow can secure properties for less than £100,000. Although buyers are finding 15% deposits, FTBs only actually need 5% and, with a 5% deposit – supported by the Help to Buy ISA, you would need to save £4,000, which would mean taking out a mortgage of 95%, which would cost £400 in repayments each month.
With the Help to Buy/Lifetime ISA, coupled with the Help to Buy new build scheme and areas which have incredibly good value first purchase properties, those who want to get on the ladder should be able to do so. For those who still struggle, there is also shared ownership – where a buyer can purchase a 25%, 50% or 75% share of a home with the rest being owned by a housing association, you will then pay an occupancy charge on the remaining share.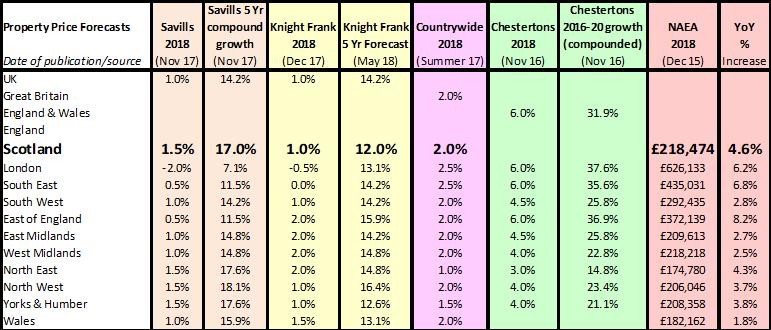 Looking forward, expectations over the next five years are good compared to other areas of the UK, with Savills predicting price growth for Scotland two and half times the rate of London, higher than most regions in the UK too. However, before investors get too excited, especially if you are looking at buy to let, bear in mind the rules in Scotland are completely different to the UK and the only way to invest is by visiting the area yourself and finding experts local to the particular area.

From a landlord and investor's perspective, Scotland is lucky enough to have incredibly good data sources thanks to the government, Belvoir and City Lets all of whom produce some excellent reports explaining on what is happening to the market. Looking at these results, the rental market is clearly still buoyant, which, considering the massive changes to the PRS over the last few years, including the latest tenancy agreement changes, allowing tenants to stay and leave when they want, while landlords have to give much more notice than England, Wales or N.Ireland. Agents are now regulated too so, in theory, there should be a better quality and more consistent service than elsewhere.
Mike Campbell, from Bevloir Falkirk, states: ''Safe Deposits Scotland, the largest of the the three TDS schemes in Scotland have reported a marked increase in landlords living in England renting property in Scotland over the last few years, a trend that is showing no signs of abating in 2018.
One theory is that the variations between Stamp Duty in England and Land and Buildings Transaction Tax in Scotland may be making investment in Scotland relatively more attractive.
Another theory is that the Scottish Government's overall strategy for the PRS has been more comprehensive and clearer for some time than has been the case in England and investors of course like a stable operating environment.
It is worth noting that the proposed legislation in England closely mirrors the measures introduced in Scotland.
The introduction of a new and simpler tenancy regime has not resulted in a flight of landlords from the sector as was suggested would be the case in in some quarters. A good balance instead appears to have been struck between increasing security of tenure for tenants with appropriate safeguards and effective grounds for recovery when things go wrong.
Of all the legislative changes in recent years the change to the tax regime affecting landlords has been the only measure to cause difficulty for the sector which is still working through the system''
For more, download Kate's comprehensive property update for Scotland.