Kate on BBC Radio 4 Money Box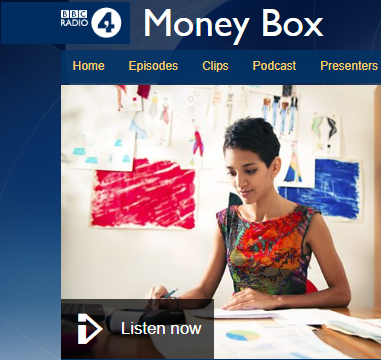 At the weekend, I was on BBC Radio 4 Money Box discussing a potential cooling of the property market. Below is a summary of what Paul Lewis and I talked about – with some extra detail which we didn't have time to get to on the day.
Do month-on-month price drops mean a cooling market?
RICS have reported falling property prices and Halifax have seen a 3% price drop in April, month on month. Paul asked if this was the way the market was moving.
I said we have seen a cooling of the market in terms of year-on-year prices and that average prices are not moving up at the rates they were previously on an national basis. However, this registered 'average' fall is in part due to regional price variations; East Anglia, London and the South have all seen significant growth over the last decade and have now run out of steam – but despite 'average' property prices showing stagnation/falls due to this, we are still seeing property price growth from the Midlands and the North.
As the Halifax say, "on a monthly basis, prices fell by 3.1% in April, following a 1.6% rise in March", which they point out themselves illustrates the volatility in the short-term monthly measure. In fact, the previous month's rise was higher than all the monthly rises in 2017. It is quite conceivable to have a 'good March, poor April' one year and the opposite a year later.
I looked back at UK HPI data to see if the month on month measure was helpful in telling us what's happening to property prices. I found that often in 'good years' there are still the some months where prices fall. For there to be a 'bad year' we are probably looking at six consistent or more monthly price falls during that year, which is what happened in 2008 when the credit crunch hit. We are not yet in that position in 2018.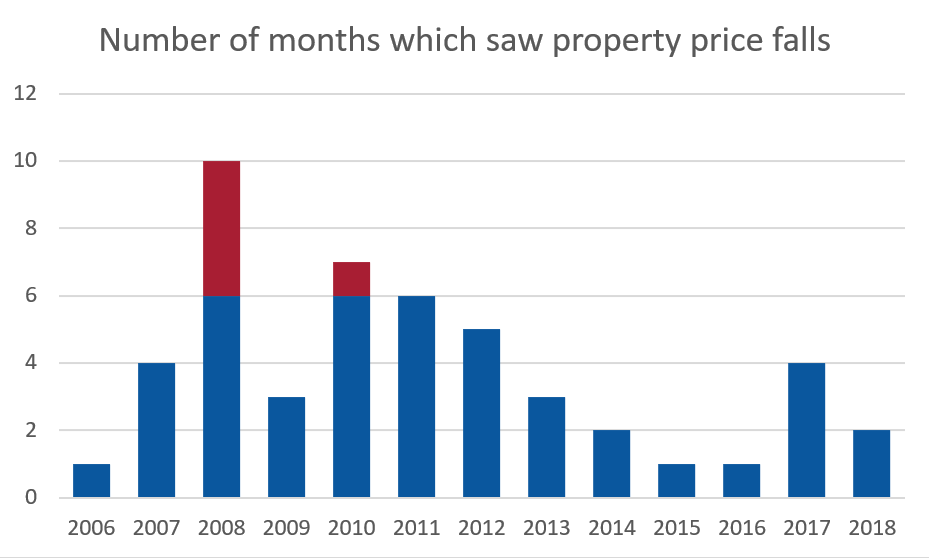 House prices vs earnings
Paul then asked about house prices being eight to nine times above average earnings and whether we will ever return to similar situation to the 1990s, when it was about half this level and people could afford to buy.
I answered that is important that buyers aren't scared off by stats like the above which can look daunting. The issue is that in those days we were paying rates of 10-15%, which this measure doesn't take account of. On top of this, iIn Nottingham, where I'm from, the average house price is around £140,000, that doesn't mean a person on £25,000 can't buy a home as there are two-bedroom houses on the market for half that price, making it much more affordable.
London
We then moved on to the capital and Paul asked about the cause of price slowdowns in London.
There are several issues affecting property price growth in London and the South East. First of all, following the recovery in house prices after the crash in 2008, an "affordability buffer" has been hit as a result of tighter restrictions on mortgages that have been put in place. Secondly, buy-to-let tax changes have reduced investor demand in the region. We are therefore seeing an overall cooling of the London market, meaning lower or more stable prices, which is not necessarily a bad thing.
Looking forward, Savills expect this to impact severely on London prices. The market is used to seeing 7-10% rises annually, but they forecast a 7% over the next 5 years, which is typically unheard of outside a recession.
For more on forecasts download our comprehensive London report.
Extra info
Here are few bits we didn't have time to discuss on air.

Property indices are giving out mixed messages
We are getting mixed messages from the indices currently which typically happens when a market is rising/falling as they all measure the market at different times.
Rightmove "Price of property coming to market reaches record high"
NAEA Propertymark "A buyer's market in March as a record number of homes are sold for less than asking price"
RICS "Price balance dips but demand and sales stabilise"
Nationwide "Small uptick in annual house price growth"
Halifax "Annual house price growth at 2.2%"
LCPAca Residential Index "England & Wales sees fourth consecutive quarterly fall in prices and transactions"
Hometrack UK city house price inflation running at 5.5%, up from 3.7% a year ago"
UK, England and Wales data

What the above data shows is that since 2005, the average annual house price index for all indices ranged from 2.3% through to 3.8%. Currently they are running at lower levels of 0.7% through to just over 4% (although the latter is UK HPI so 3-6 months behind the other indices).
Essentially we are seeing, on average, a slowdown in the market. This has been predicted for several years and so far is just the markets adjusting to the post-credit crunch falls, followed by rapid increases.
Why the slowdown?
This is due to two things; a slightly less favourable economic performance exemplified by wages rising at a slower rate than inflation coupled with the fall in buy to let purchases. However, fundamentally market economics don't suggest falls, mainly due to:
Prices go up, down and stay the same
Despite all the figures you hear, it's always important to remember that some property prices rise, some fall and some remain steady across the various UK regions, including London. The key takeaway for anyone looking to buy is that it is not a bad time to start looking but you should always talk to a broker first.
London examples of different price movements
Properties with no price changes in London

Price reductions in London


Price increases in London

Regional examples of prices going up/down and staying the same in similar locations
Price increases

Price reductions

Very little change in property price

What's happening in your region/town?

The towns and cities index is revealing some really interesting stats. For London, Oxford, Cambridge and Reading the huge 40% + growth they have seen in the last 10 years means that they have hit 'affordability buffers' and where it's tough for buy to let investors to get deals to stack up under the harsher tax regime. However, for somewhere like Bradford and Belfast to only see small levels of capital growth year on year and still be way behind prices reached over a decade ago, it's tough to see whether these areas will see a recovery or in the future be seen as areas where the property price bubble has truly burst. In contrast areas such as Brighton and Hove, Bristol and Milton Keynes are not only up 40%+ in the last 10 years, but are still rising at 4% or more year on year. It's likely that this is down to economic and income/wealth conditions in those individual areas. What we will have to wait and see though is what the headlines bring over the coming months to see if, despite the economic conditions to buy being good, whether confidence will subside further than currently in the wake of more poor property price growth reports, job loss announcements and of course the uncertainty of further conflicts on the international stage, all of which can spook buyers into 'holding back', leading to sellers panicking and reducing their property prices. Typically though when there is no economic reason for prices to fall, we often see the currently predicted slowdown and some falls, then the market recovers as it's predicted to do in the next few years.