Are prices in the East Midlands growing or slowing?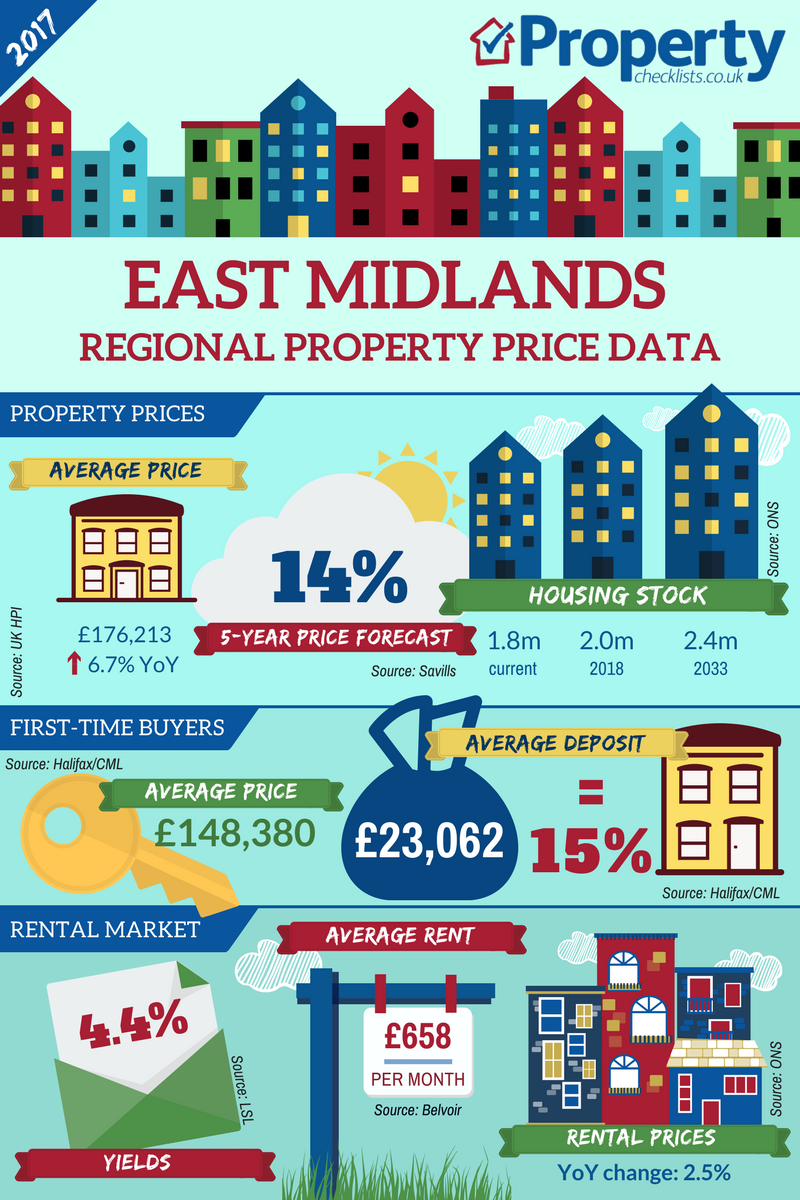 Halifax "Property prices in the East Midlands picked up by 8.0% year-on-year, which placed the region in second place for price growth in Q1."
LSL Acadata HPI "Outside of the West Midlands region and London, the East Midlands is keeping pace, up 4.3%."

Source: UK HPI
During the credit crunch the East Midlands took a bit of a dive, especially flats in the city centres of the likes of Nottingham and Derby, with average falls of 18-21%. Prices have just started to recover, although flat prices remain exactly that… flat! The main recovery though has only just begun with property price rises year on year just reaching their long-term average growth rate of 6-7%. For those who bought at the low of the market, good gains of 30-40% can have been achieved. Overall, although the Land Registry data shows 6-7% growth year on year, the later indices show this has now slowed to 4-5%, suggesting growth rates have peaked and are now falling back as in the rest of the UK. In summary, properties in the East Midlands remain good value for money. Properties can still be bought for under £100,000, making the cities in the East Midlands some of the most affordable in the UK.
LSL Acadata HPI "This month there are six regions where house prices have reached a new peak, being the North West, the East and West Midlands, the East of England, the South East and Wales." (Apr 17)
Source: UK HPI
First-time buyers can definitely 'bag a bargain' in the East Midlands with the average price paid around £150,000. Although the 'average deposit' is £23,000, with a 5% deposit of £7,500 and using the Help to Buy ISA, our analysis above shows that FTBs would actually need to save £5,625, or if buying as a couple, just under £3,000 each. Over a two-year period that would mean saving £250 a month each. Comparing this to renting, it costs on average around £600 per month, while to buy a £150,000 home would cost £680 a month in repayment of which £475 goes in 'dead money' ie interest to the lender.
The average new build price is £235,029 versus the £176,213 people pay on average for a property suggesting quite a premium to buy new versus an existing home.
Looking for your first home? Read our FTB quick guide.
East Midlands price forecasts

Forecast wise, property prices are not expected to grow much over the coming years. On average, the increases range between 14% and 26%. Since 2000, the average over a five-year period would have been 38%. Looking at the different forecasts, although we are not yet halfway through the year, it looks like the forecasts may be a little light for the region… bar Chestertons who are currently 'spot on'.

Depending on when tenants came into the rental market, will determine affordability calculations. For example, the Belvoir long-term rental index shows that the annual inflation for lettings is around 1% each year when smoothed out over falls and rises over the last 10 years.
Current inflation rates show that rents are rising on average in line with wages and with inflation – with the indices showing an increase of 1-3% per year.
Looking to rent? Read our how to rent quick guide.
Rental trends from Direct Line show that renting varies from 29% to over 50%, albeit this includes properties which are socially rented. The private rented sector shows that for Lincolnshire, out of a total of 306,971 properties, 13% are privately rented through a landlord/letting agent; in Nottingham, out of 126,131 properties, 21% are privately rented, and 21% in Leicester out of a total of 123,125 properties.
For more rent stats visit our comprehensive data page.
For more, download our in-depth analysis of property in the East Midlands.