publication date:
May 3, 2016
|
author/source:
Kate Faulkner, Property Expert and Author of Which? Property Books
Generation Rent: Let's support them, not scare them!
Every year the Halifax release an excellent report on how young people who are living at home or who are renting feel about buying a home of their own. It's one of the few reports which matches what I am picking up at my property clinics around the country, talking to mums and dads, first-time buyers and investors.
And it's good news in the main as the number of first-time buyers is seriously recovering since the huge fall the market experienced by all buyers when the recession hit in 2008: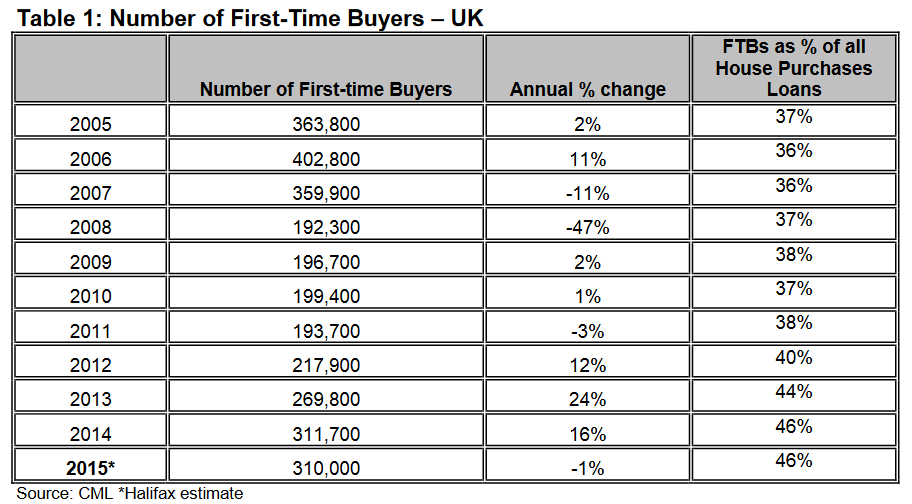 Craig McKinlay, Mortgages Director at Halifax, said: "This recovery has been fueled by a number of factors, including an abundance of successful Government initiatives and the affordability of monthly mortgage repayments due to the continuing low interest rate environment and some very competitive deals."
The key details of the report about first-time buyers show:
Home ownership aspirations remain as strong as ever;

Average price of a property is £196,801 but, as this is skewed by London, most pay £118k to £150k, according to Halifax data;

Most buyers are spending between 2.8 and 3.3 times of their income;

There are currently more than 300,000 first-time buyers in the UK, recovering to 86% of the levels seen prior to the recession;

Despite many ridiculous studies and reports, the average age of a first-time buyer is now 30.4 years. This is older than 2010 by nine months, but that's no surprise as the economy needed to recover before people started buying;

Non-owners assume it will take 5.5 years to save for a deposit (this doesn't me it WILL take them that long)

Interestingly as prices rise, rather than deposits getting smaller, on average they have increased by 13% since 2015;

Those 'late' to buy their first home are already making efforts to reduce the financial burden of their mortgage;

As it always was in the past, "buying with a partner (49%) is the most likely way to get on the ladder".
However a new way to help increase the affordability of buying is to extend the mortgage beyond the traditional 25 years.
In 2007, the proportion of first-time buyers with a 35-year mortgage was 16%

By 2015 the proportion was 26%
During this period the "share of mortgages with a 20 to 25-year term dropped from 48% to 30%".
Read - First Time Buyer Legals Checklist
Do 35-year mortgages matter?
The honest answer is no, not at all:
Average life expectancy in the 60s when we first started taking out mortgages was: 70 years in the UK*

Average life expectancy by 2012 was 81.5 years.
*Source: World Bank
And when you consider that we are starting to increase the retirement age which was 60/65 and is now rising to 66 for both men and women by 2020 and to 67 up to 2028, linking to life expectancy changes after that.
So in actual fact, our youngsters getting on the ladder now are likely to be working up to the age of 70 – five to ten years longer than previous mortgage owners. (Source: Thisismoney.co.uk)
Barriers to first-time buyers
When asked about barriers to getting onto the ladder, 60% of those questioned in 2016 were concerned about high prices, compared to 52% in 2011.
However, 31% of potential first-time buyers said rising prices won't stop them from buying and they understand that prices will continue to rise.
Read - First Buyer Quick Guide
Are first-time buyers worrying unnecessarily?
It's pretty interesting that the research suggests those getting on the ladder – or just about to – are concerned about paying off their mortgage as soon as they have one. The research shows the following worries:
34% expect to work beyond retirement age to clear their mortgage, falling to 28% for current owners;

44% are worried they won't be able to afford their mortgage payments in retirement;

45% are worried their mortgage cost will mean they have to work longer;

51% worry mortgage payments will make it difficult to save for retirement.
But it is also likely that most people felt like this when they were younger. What you find over time is that your salary improves, your kids leave home and you secure extra pots of money; perhaps from inheritance, a windfall from a bonus, or your property price does well so you can trade down later in life.
Overall, this report suggests that there is good optimism about getting on the ladder, despite the many media reports and so called 'affordability' surveys which often skew the reality of first -time buyer numbers.
Download our FREE First Time Buyer eBook
Information on the survey:
The Halifax Generation Rent Report is the largest research project of its kind in the UK. It provides ongoing insight and in-depth analysis into the attitudes and behaviour of young people towards homeownership since the financial crisis. This is the sixth annual report and contains data from almost 50,000 20-45 year olds and 6,000 parents with children aged between 20-45 years old, accumulated over the history of the research.
8,110 18-45 year olds were interviewed online by Populus between 23rd February - 8th March 2016, analysis of the data and trends throughout the series was conducted by Natcen.