What does the property market have in store for the rest of the year?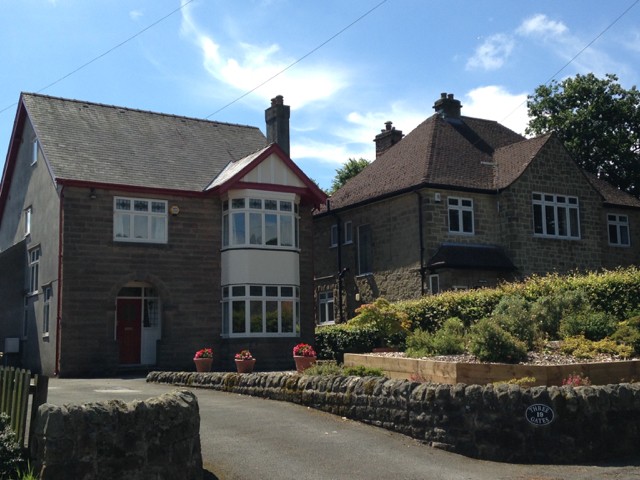 While Theresa May seems to be battling for a soft or hard Brexit, the property market this year could go one of three ways:
Stagnation
This is already happening with the number of properties for sale rising, number of offers reducing and buyers 'holding off' for fear of price falls. The longer the uncertainty goes on, the longer the market is likely to stall.
Bounce Back
A 'soft landing' could happen if the uncertainty of our future is cleared. The market could bounce back as according to reports from LSL and Rightmove, people are still keen to move, so demand is currently pent up.
Recession
The worst case scenario is we end up with a full blown recession. This may or may not be caused by Brexit as there are also global economic worries, for example the trade war between America and China and the FT reporting China's growth at its slowest since 2005.
Whichever scenario plays out this year, people still need to move and what I find useful is be open with consumers about their fears of a recession by explaining what happened to the property market during the credit crunch and how they can still move and mitigate the risk.
There is a cost of putting a roof over your head whether you rent or buy
Typically people will own property for over 60 years. During this length of time they'll make money on some properties, break even on others and may end up losing a bit on some.
Whether people decide to buy or rent, there will always be a cost to putting a roof over their head, so the trick is when owning a home is never be forced to sell at a loss.
To mitigate this risk, people can talk about their fears to mortgage brokers who can help recommend the right mortgage and insurance. Agents can help with a 'back up plan' of letting the property during a crash if needed – which many people did during the credit crunch.
If we were heading into a recession what would that mean for property?
Firstly, most of the property price and economic reports suggest that although things are slowing currently and there is a growing chance of a recession, it isn't expected to hit just yet. One article (in the Independent) suggests it won't hit until 2020.
One way I help people is to explain what happened to properties bought before the last crash, talking about how far and for how long property prices fell for and the length of time it took for prices to recover.
Of course, our 'market' performs inconsistently from a property price perspective at a regional and city level, but when it comes to falls and recovery, the figures were surprisingly consistent in the last recession as the table shows.
How far property prices fell, for how long and the time it took to recover their value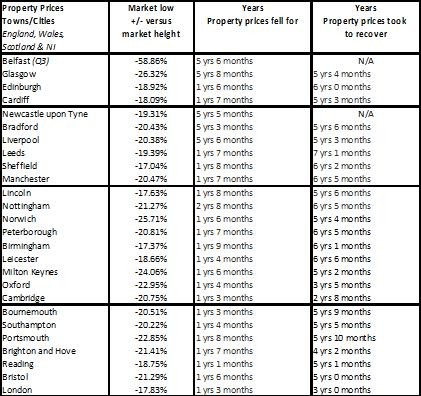 The table shows, on average, prices fell by 17 to 20%, meaning most people buying with deposits of 25% or more wouldn't suffer with negative equity if prices fell at a similar rate, although as I explain below, there are exceptions to this including Belfast, Glasgow and Newcastle where, 12 years on, these areas, are still struggling to recover 'on average', although some properties will have still performed well during this time.
When prices did fall, it was relatively quick - for around 18 months. Most areas experienced 'two' separate dips, while some saw prices yoyo up and down three times. During this time, some people managed to trade up the ladder faster, securing the property 'of their dreams' at a bargain price.
While prices fell on average for 18 months, they recovered fairly fast in the south – with Cambridge and London taking three years for average prices to return to nominal levels. Most other areas took 5-6 years, with prices stabilising during that period of time. During the recovery, prices tended to grow around 5% year on year and then experienced short bursts of double digit growth.
There are always exceptions though and Glasgow for example saw property prices dip downwards on five separate occasions, with the average property price falling more with each dip. Edinburgh had a similar number of dips, but in contrast, each fall was lower than the last one and prices eventually recovered to previous heights.
Meanwhile, in hindsight, Belfast probably saw the UK's first true 'property price bubble' burst and although prices have risen since, it's hard to see they will fully recover for years to come – if ever.
Whatever the market is doing though, people will always need to move and helping people understand how people survived the last recession can help make moving in these uncertain times less scary than it might feel.