Do we need to worry about the snap election?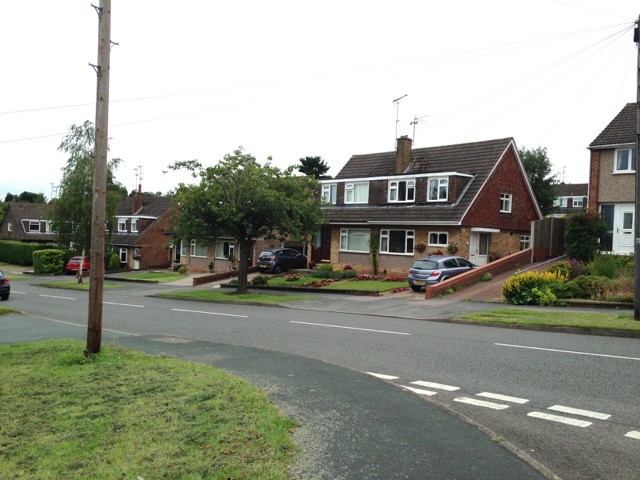 Grrrr. There I was about to 'settle' down to a nice few months of writing projects, doing the odd interview here and there and looking forward to some 'quiet time' in the property market.
Then bam! A general election… really? We haven't recovered from the Brexit vote yet or really even started to leave, Donald Trump has only just taken office in the US and we are all learning how to deal with two major influences on uncertainty and then the UK gets thrown into a speedy election.
Whatever your (or my!) views on the election or who to vote for, it's on its way so, as we actually don'thave any policies from the main parties on housing yet as the manifestos aren't out – certainly nothing new – then I thought the most useful things to do were:
Let you know which Prime Minister has performed well/badly on housing on your behalf;

Give some insight into what to do if you are about to begin or are in the middle of a property project.
About to start a project? Here's how to avoid a rogue trader.
Savills did a great report a few years ago which summarised the success/failure of previous Prime Ministers; the following is a summary of the information provided in their Residential Property Focus Q4 2014 report.
It's interesting that the 'real' house price growth was top in the Blair years, yet scarily, they had the second biggest loss of social homes too. The former, though, was partly due purely to economics of changes in mortgage affordability rules and a drive to push private renting, which was started by the Conservatives.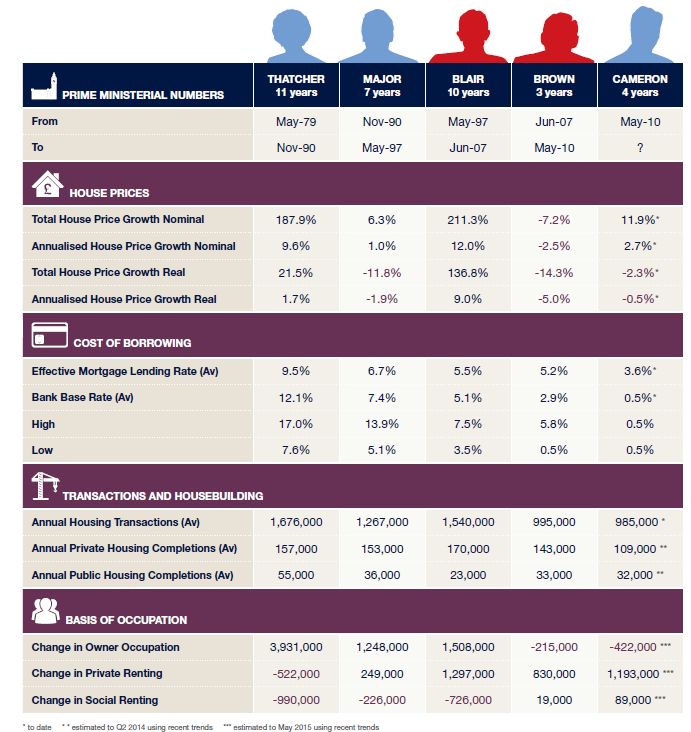 Now we are in an election period what's likely to happen next?
I think in the main, people are becoming a lot more immune and less worried about the external factors that affect the market.
The property market in the past has rarely been consistent. As soon as there was a fear of house prices falling or rising rapidly, people would pile out/in as appropriate. However, having gone through a pretty tough period of house price falls coupled with a severe recession, people do seem to have become more practical and view homes either as an investment which will have its ups and downs, or as a home… so the ups and downs will come and they just need to be financially able to ride the storm.
This more 'relaxed' attitude to external shocks affecting house prices may too be influenced by the fact that more than half of England's homeowners have no mortgage, so are much more cushioned from house price inflation/falls as they cannot be forced to buy/sell due to economic reasons, just perhaps ill health or the need to downsize.
Three things I think are worth watching out for:
Fewer people may put their home on the market, preferring to wait until things are more 'certain', reducing stock levels and choice for buyers.

Despite the potential reduction in stock levels, it is possible that a bargain or two maybe come available as buyers may well hold off committing, too, meaning those keen to sell will take less money for a quick sale.

Will the Conservatives actually win? Many polls haven't been right, so why should this one? If they do it's likely they will maintain the announcements in the Housing White Paper.
Need to sell quickly? Here's how to sell to professional buyer.
And I have major concerns over what happens to policy announcements in the private rented sector over the next few weeks. Sadly, this has very much become a 'political football' for MPs. Many are anti-landlords and agents and I have yet to find more than the odd MP who actually understands how the PRS works.
Most politicians think people only rent a home if they can't afford to buy. Naïve! While 18% are on benefits and most of these people are probably on council waiting lists, never able to buy, many others will be students, migrant workers, people in the middle of divorces and transient workers as well as those who occupy quite a large premium rental market. For these people, it would not make sense to buy.
So, before investing, it's worth checking out what new policies will be announced so you can factor this into any investment decisions.
Other thoughts from those in the property market are:
The Council of Mortgage Lenders
"We will wait and see, but our assessment right now is that we wouldn't expect a dramatic impact," and that previous elections hadn't effected markets that much."
ARLA/NAEA
"Past trends show a clear correlation between general elections and the level of trade in the property market, with activity generally dipping pre-election. The unusually short timescale between the announcement and the ballot date however, could result in less of an impact on housing transactions."
Alison Platt, chief executive at estate agent Countrywide
"Analysis of sales transactions over the course of the last nine general elections indicates there will be a dip in activity pre-election."
Jeremy Leaf, former residential chairman of the Royal Institution of Chartered Surveyors (RICS)
"If the result is decisive either way, that will give the Government a greater mandate for its existing policies and is likely to result in a surge in activity in the housing market at least for the honeymoon period afterwards."
Summary
In the main, most people seem to think that, due to the speed of election, it may not impact that much as people who are buying/selling are likely to continue to do so.