publication date:
Dec 1, 2016
|
author/source:
Kate Faulkner, Property Expert and Author of Which? Property Books
Sellers settling for price cuts – is it happening in your area?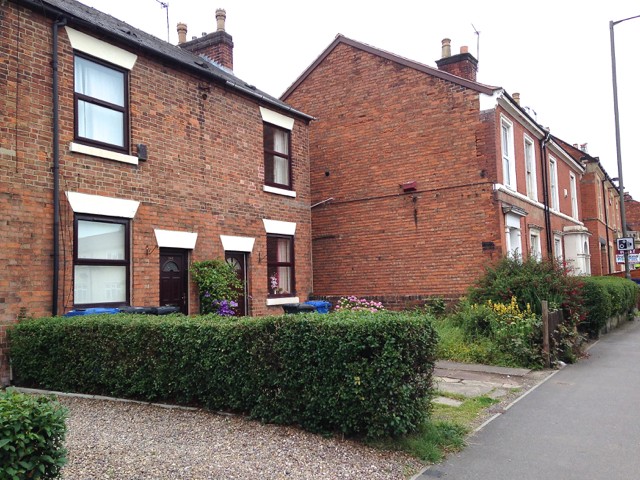 Research from Nottingham Building Society (NBS) has shown that more than 40% of sellers have needed to make compromises over their selling price in the last half a decade.
In fact, 1 in 12 have had to settle for a major price drop from their original target valuation. This shouldn't be a major surprise as prices dropped during the credit crunch from 2007 through to 2009 and some areas started to recover after that, others had a 'double dip' while some were just as flat as pancake for many years, only just starting to pick up in the last few.
However, unusually for the property world, some good news for Londoners as the Capital bucks the trend somewhat as only 6% of sellers have had to drop prices.
Unfortunately the news isn't so bright for sellers in the Yorkshire and Humber region where more than half of sellers have had to see their original valuation fall by the wayside.
NBS are of the view that this research shows how crucial estate agency advice is when it comes to costing sellers lots of money, if the job isn't done right. It also illustrates the various trends around the UK showing the quality of agents changes from region to region.
In my view it also shows how individual property prices are these days – quoting regions is OK, but some properties don't do very well price wise and some haven't even changed since 2000, which is over 15 years ago.
The research also confirmed what we have known and seen in many other reports and research, that 25% of deals didn't actually go through to completion. This is a statistic that's regularly talked about by the government and quick sale companies such as Quick Move's Sales fall through index.
Need to sell your home quickly? Read our expert checklist.
How many sellers had to take price cuts by region over the last half decade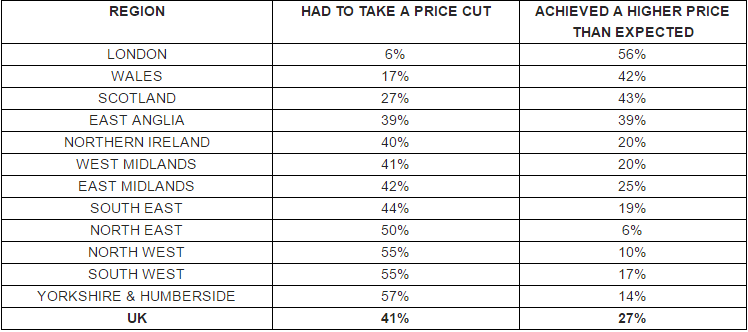 Su Snaith, Head of Estate Agency at The Nottingham, said: "Price is not all that matters when you are selling your house but it can be absolutely vital if you are relying on a certain price for your next purchase, which means realistic valuations are essential.
"The research emphasises the need for independent advice focusing on what is important for sellers at the start of the process and particularly so when so many are taking substantial price cuts."
I couldn't agree more, it's why it's essential to choose an agent very carefully – not just the one that appears charming and offers you the highest price, especially if it's way over everyone elses and they provide no evidence of similar properties which have recently sold.
Any agent that does not show you sold property price data or go through the number of active buyers they have looking for a home like yours – which they can afford too – isn't worth calling back, apart from to say 'thanks, but no thanks!'
But, selling your home starts before the agent steps through the door, so why not follow my top 10 to dos to sell your home to the agent, before you put it on the market!
Kate's top 10 to dos before you have agents around to price your home:
Know a critical friend? Get them in to tell you what's wrong with the property, big no no's are things like bare wires and any cracks scare the living daylights out of people, so get them sorted!

If you have a show home, great, if you have a wreck, don't do anything, but if your home is a bit of both, make it a show home to secure the best price, or people that want to add value won't buy, nor will those who just want to move in.

Make sure you check what similar properties have sold to yours recently – checkout www.nethouseprices.com they also show which agent has sold previous properties, which is very useful!

Choose three agents that have sold properties similar to yours and ask them to visit

Have a list of questions to ask them – don't just invite them around, have a chat and make a decision!

Ask to see what properties they have sold recently, how many buyers they have actively looking for your property type and how long similar properties have taken to sell. How often will they keep you updated on your sale – most good agents will talk to you once or twice a week.

Rather than negotiate with the agent based on commission, ask for a fixed fee and offer to give them more – if they sell it above the price you expected/needed.

Agree a minimum price you will sell for – don't limit it to a 'fixed price' and explain why you can't sell it for less.

Don't just sign the T&Cs from the agent, check if there is a tie in time eg 12 weeks, ideally they won't have one at all, or six weeks at most, check what happens if you take the property off the market and then put it back on with another agent – will they charge you if the property sells as well as the other agent?

Make sure you are out and let the agents do the first viewing so your buyers can relax!
For more, read our selling a home checklist.