publication date:
Aug 9, 2014
|
author/source:
Kate Faulkner, Property Expert and Author of Which? Property Books

Renting by the room? Here's the current situation...


We work closely with SpareRoom who run their own Index to help buy to let landlords and tenants understand the trends in renting a room and they support our Rent a Room Checklist.

Download my defenitive guide to rental market trends

National room rent trends from SpareRoom show:-
This month's index shows a big increase of 7% year on year. As with rents in London this could be due to the increasing quality in this sector, where landlords have realised professionals are quite happy to rent a room if the quality is good enough. It helps them to keep costs down post student days, retain the 'student living' element of sharing and helps them potentially save towards a deposit for their own home.

Download my definitive guide to rental market trends

Interestingly, rents in London don't appear to have increased that much and in fact some have fallen.
June 2014 versus June 2013 7%

Regional Room Rent Trends
The quarterly percentage change for the majority of room rents varied by +/- 2.5%, with a few areas showing more significant quarterly changes, including Glasgow up 7% and the Isle of Man up just over 8%, whilst Galashiels fell by around 15%.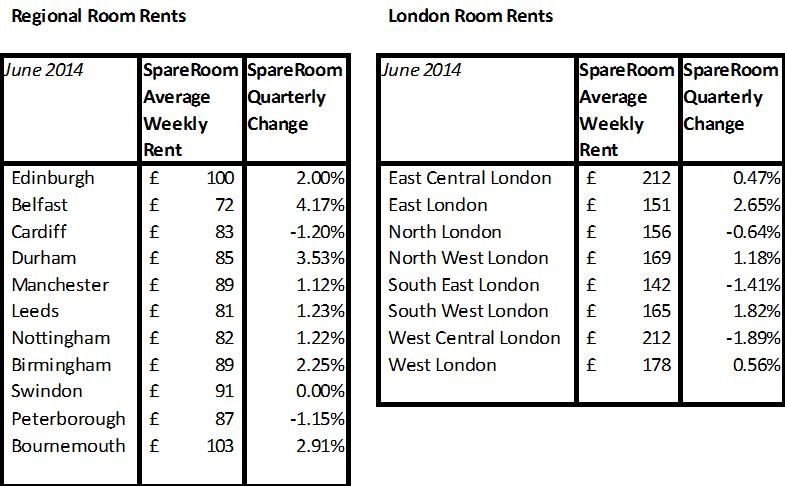 Data sourced from SpareRoom's Room Rental Index (June 2014). For more data, visit SpareRoom.co.uk.

For FREE, independent and up to date advice on buying, selling and renting a home, sign up for FREE to Property Checklists. Join now to access our FREE property checklists, including:-