publication date:
Dec 11, 2018
|
author/source:
Kate Faulkner, Property Expert and Author of Which? Property Books

What is the property market going to look like in 2019 and beyond?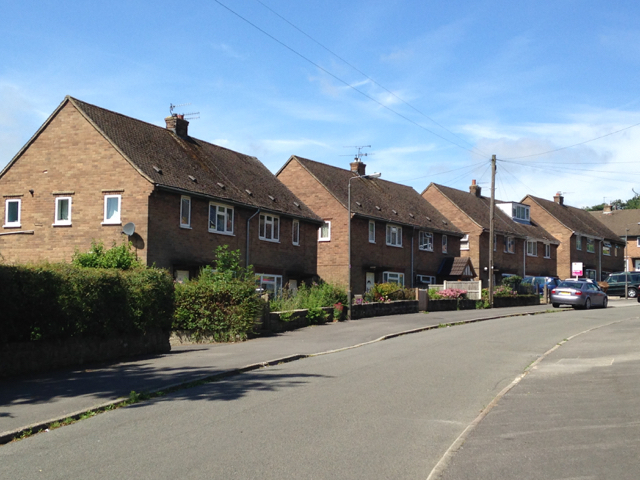 Well, we are a few months away from the major uncertainty of Brexit and, although it's nearly Christmas, at the moment we have no idea what is going to happen and it's that uncertainty that makes the market incredibly difficult to predict.
However, what we can do is assume that with the horrendous option of not having a deal, one will eventually be struck, probably towards the end of January now. I think this will be driven by the reality of economic and business performance which I expect will throw up pretty rubbish numbers over the coming weeks, both for UK and Europe, forcing people to compromise and move on.
So, if we assume the Conservatives stay in power and our economy gets back on track, then the picture moving forward for the property could actually be quite positive.
This is because, based on the budget, our economy has until now been doing pretty well. A key measure: wages are expected to grow in excess of inflation and this is better than they have performed over the last 10 years which in London has actually resulted in real wages falling. With budget changes bringing forward the increases in personal allowances to April 2019, this should make people at least "feel" better off, even though some of this will be offset by changes to National Insurance.
And for those areas lucky enough to benefit from billions of pounds of investment such as the Milton Keynes-Oxford-Cambridge corridor (even though anyone caught up in the roadworks on the A14 at the moment won't be feeling very positive), or incredible new sites such as Barking Riverside in East London, the property market should start doing well as soon as major 'uncertainty' and 'fears' are overcome.
This positivity is reflected in the forecasts for the next five years and most are expecting the market to do well over the next five years, probably for the first time. The exception is London which is being hit by Brexit and affordability buffers, both from a price and rental perspective.
Here's a summary of the forecasters predictions for prices and volumes over the next few years: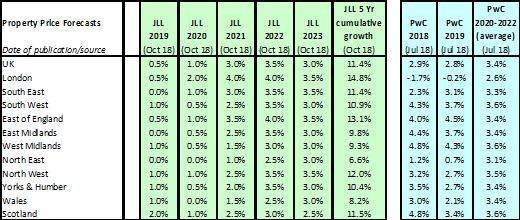 The forecasts show that JJL and Knight Frank are suggesting pretty similar predictions, while Savills are suggesting quite grim growth for London, suggesting prices will grow around 4.5% over the next 5 years. This might seem OK, it's still growth after all. But Londoners are used to 7-10% annual growth, so if Savills are correct this will dramatically change people's views on investing in property. This forecast means people would have only a bit of extra equity to trade up, they will then suffer a double whammy of affordability caps due to mortgage regulation changes.
The 'good news' though is if Savills forecasts are correct, then regional growth is expected to be good - and I do agree with this, the 'south' to me has almost 'maxed out' it's price growth now. In contrast, the lack of price recovery in the regions since the credit crunch suggests there is definitely more growth available.
What people need to be aware of though is that in the regions, property price growth is a lot more varied than down south. So averages don't reflect what's really happening, it's down to individual road and price performance.