Private rental summary from LSL, Countrywide and Belvoir December 2015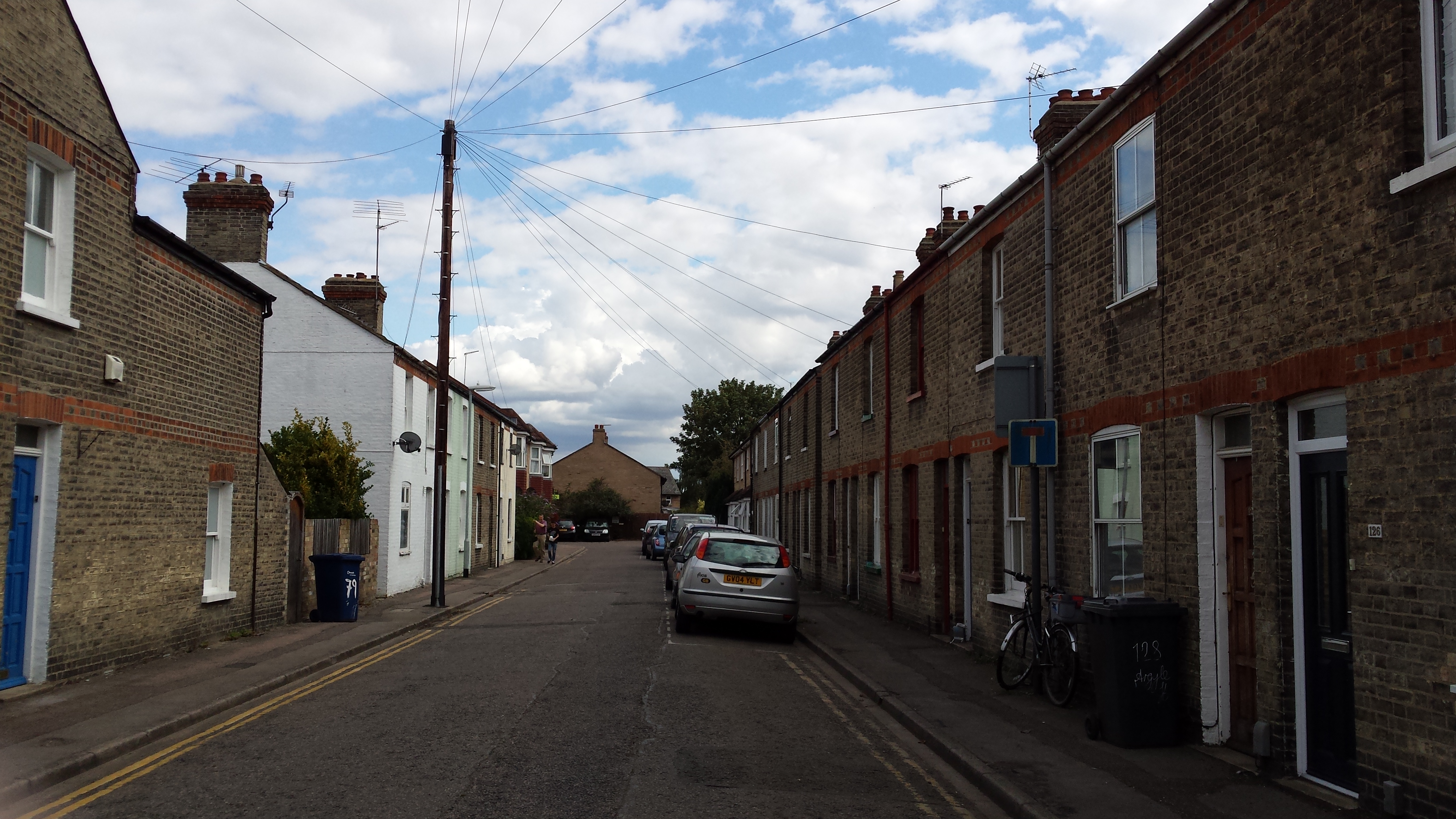 Our latest rental report covering the end of December shows that rents rose better in 2015 across the UK than they have since they fell back by 5%-20% in 2008.

LSL, Belvoir and Countrywide are the leading lettings agents in the UK and all show that rents rose between 2% and 3.5%, pretty much in line with wages for 2015; according to the ONS, average wage earnings grew at 2% over the year.
Of course the changes vary regionally, with Greater London growing at 4%-6%, while Wales actually saw rents fall.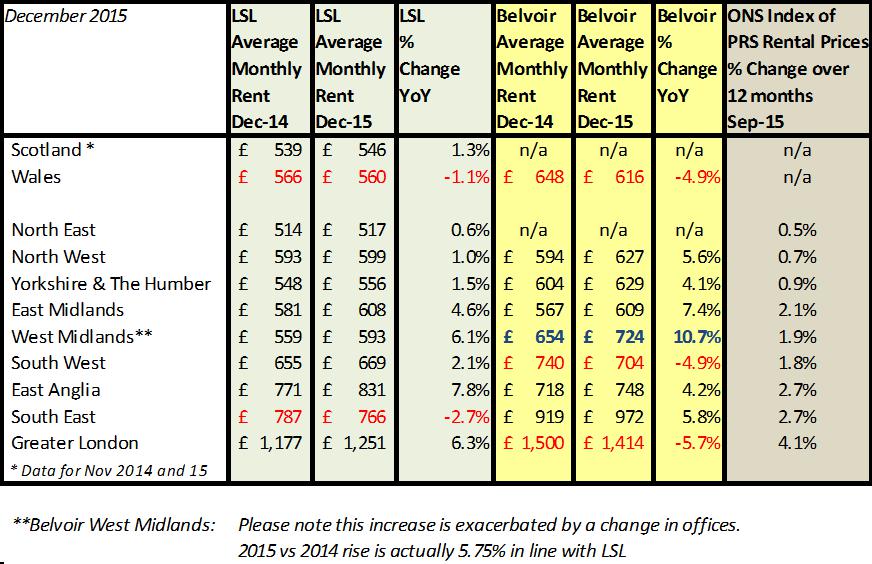 For more on what's happening to supply and demand and rental averages in your area, read our latest private rent report and for help with your rental queries read:-
What will happen to the rental sector in 2016?
With landlord income and capital growth earnings having come under attack from the government, most landlords are now looking to increase rents this year to help cover future potential falls in earnings or, for some, actual losses caused by the way mortgage interest relief will be calculated in the future. This is because the government is planning to stop landlords from deducting their mortgage interest cost from rental income in the way they have before, phasing in the changes from next year.
Read: How to analyse a buy to let investment checklist
Stock not expected to keep up with demand
A new report from Savills on the Private Rental Sector (PRS) says "The rental market will still expand by more than one million households over the next five years despite measures to turn 'generation rent into generation buy'."
With the government making it pretty clear over the last six months it's not interested in supporting the estimated two million small landlords in the UK, tenants are likely to have to rely on a surge in building from large landlords.
This may be good news for the PRS from a professional perspective; large landlords are more likely to abide by renting rules and regulations and are likely to be happy to offer longer tenancy agreements.
Download our rental performance analysis
However, what isn't good news is these investors will be buying at 'today's market rate' and will be expecting to make money from rental income, which in turn means it is likely they will charge higher rents than an individual landlord, mostly relying on capital growth. In addition, research suggests that many existing landlords will look to sell up rental accommodation bought some years ago and it's unlikely with the time it will take for large landlords to buy, renovate and then rent the properties will happen fast enough to replace this stock, if it ever does. And, even when built on a large scale, in areas such as London 'economies of scale' don't seem to apply. As a result, rents need to be the same as they are currently or slightly higher, so no chance of discounted rents.
Read: Will your buy to let deliver a pension checklist?
Where should you invest now London is becoming 'unaffordable' for small landlords?
The chart below from the Savills rental report shows the growth of the rental market for areas where more than 15% of households rent privately. Interestingly though, although issues with buying affordability are helping to increase the demand for rental accommodation, it's clear that rental growth exists in markets where prices haven't risen that much and homes are still affordable.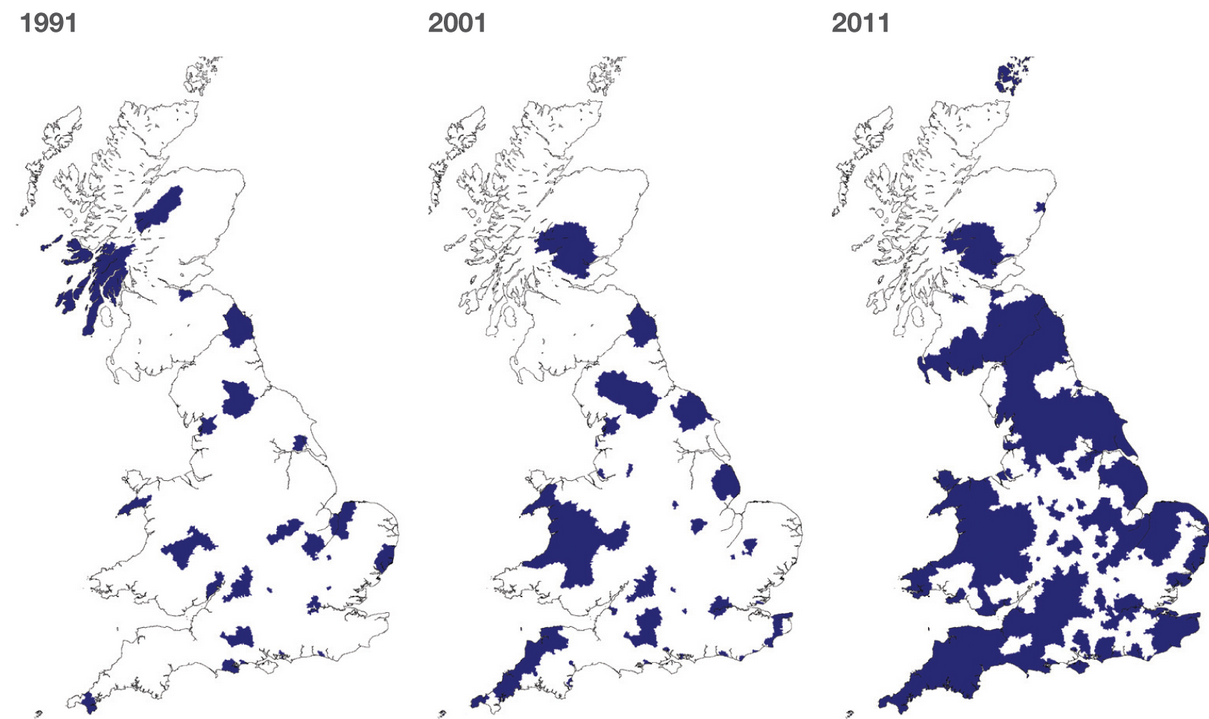 Source: 1991, 2001, 2011 Census and Savills Rental Report
From a growth perspective, the rental market, according to Savills analysis from the Government's English Housing Survey, "has been growing by a staggering 17,500 households per month on average over the 10 years to 2014".
And despite the government's efforts to reduce demand on the rental market by offering deals to encourage and enable home ownership, Savills believe "This would reduce the growth of the rental market by 15% from 260,000 households a year to 220,000 new households a year". The result is they believe the "sector will still grow by 1.1 million by 2021".
Download our rental performance analysis
Where should you invest?
With London now becoming pretty unaffordable for landlords as well as tenants, landlords are already being encouraged to, and are looking to, invest elsewhere.
Savills have identified 29 cities which they say "represent some of the most attractive cities for investment in the rental market, although opportunities will vary on a site-by-site basis. Manchester, Reading, Edinburgh and Bristol top our list because of their strong economic growth prospects and reputation as vibrant, desirable places to live".
With the exception of Manchester, not only do these cities deliver potential income, but also good capital growth. However, Manchester property prices are still, according to our Land Register property price report (link), 15% lower than at the height of the market in 2008. In 2015, they grew just 5%, while the other cities were in double figures. Edinburgh isn't performing as well for now, but has the potential, while Bristol and Reading are seeing some great price growth.
Here are the 29 cities they have identified. But remember, just because they are on this list, doesn't mean they are guaranteed to deliver. The principles of property investment, mean you need to:
Buy below market value

Check local demand and wage values

Look for economic 'boosts' such as new transport links, employment opportunities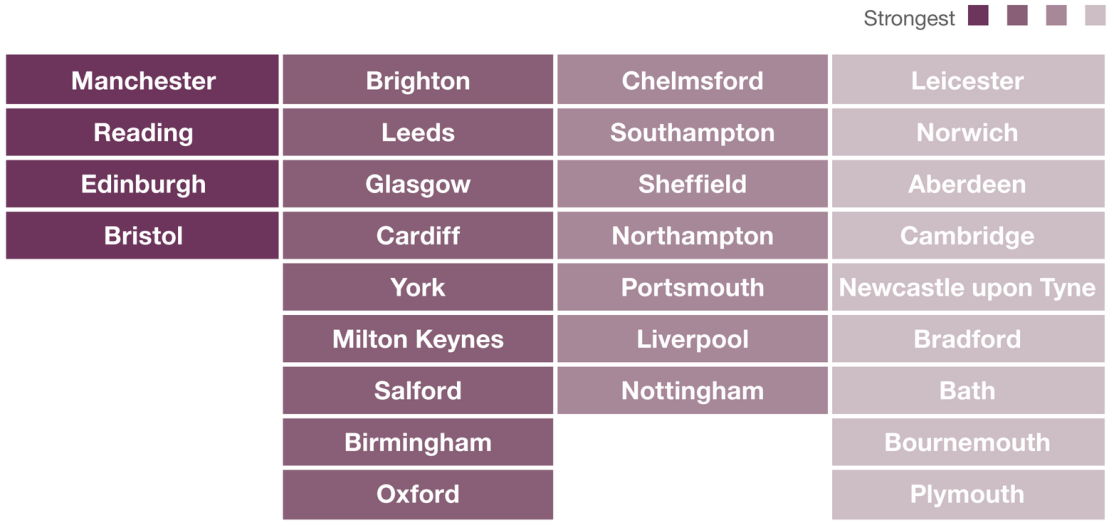 From my perspective, I would also add in Cambridge to this list, I don't see it as a weak link, as long as you buy the right property in the right area.
Read:-