publication date:
May 1, 2018
|
author/source:
Kate Faulkner, Property Expert and Author of Which? Property Books

Astonishing figures in London this quarter?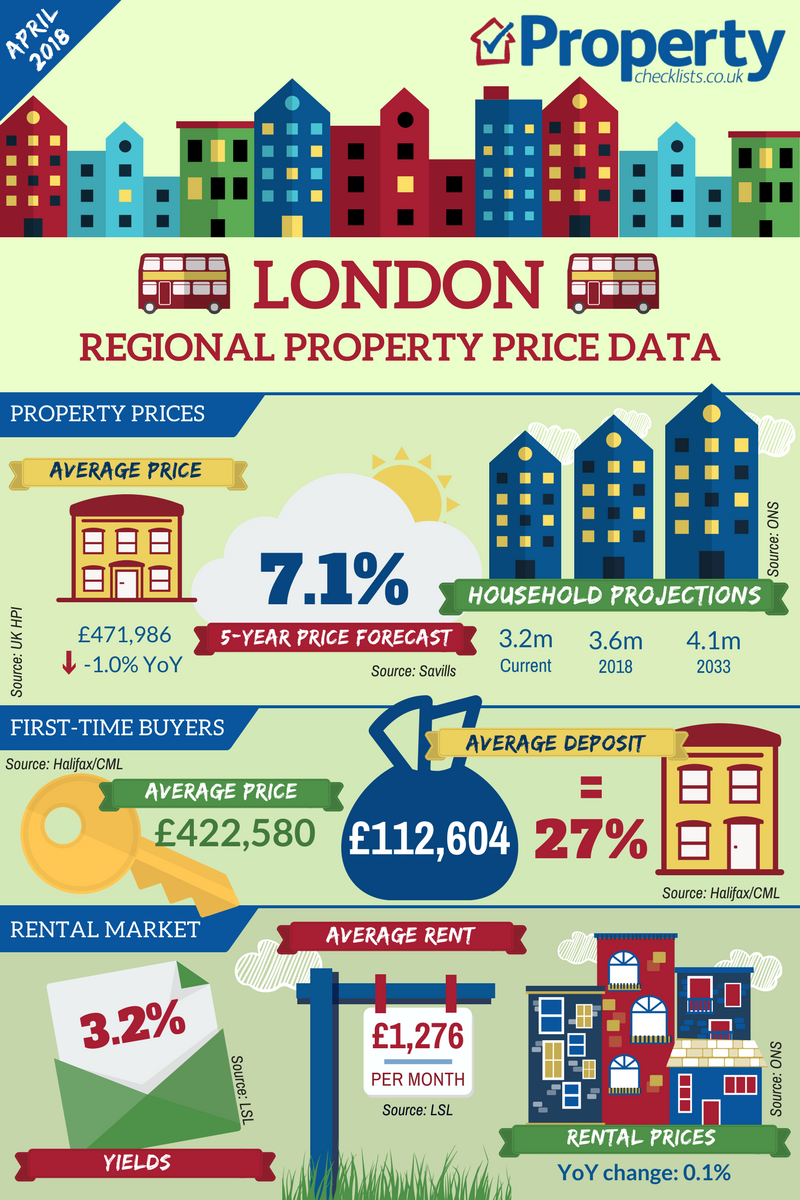 London report headlines
Rightmove "Sellers warned to price more keenly to avoid 4.4% discounts"
Nationwide "London again weakest performing region, with house prices down 1% year-on-year"
LSL Acadata HPI "Regional peaks while London slowdown persists"
LCPAca Residential Index "A slow picture for Greater London as affordability and domestic issues impact sales"
Hometrack "London house price growth is 1% per annum with negative growth in 42% of postcodes"
Chestertons "Affordability issues slowed sales in Greater London in 2017"

Source: UK HPI

The figures for London this quarter are kind of astonishing.
Since 2000, London has been used to seeing property price increases of 7-8% each year. Since 2009, when most places across the UK saw property prices at their lowest due to the credit crunch, growth for some has been 100% over just 10 years, meaning double-digit annual increases for many. Yet now, the property price picture couldn't be more different. All indices show prices down year on year, albeit by tiny amounts compared to recent growth, although the price falls appear to be hitting apartments more than the short supply of houses, with detached still growing at just over 3% a year, matching inflation.
Of course, for many this will be good news. Buyers can have some rare respite and take their time to purchase a property as well as make a cheeky offer, while any homeowners who bought before 2016 will still have seen phenomenal growth in prices, even if they bought at the height of the market in 2007/8. The current 'losers' will be those who have bought over the last few years at the current height of the market and may now have seen their property values fall. This, though, is only an issue for a fraction of people who are forced to sell for whatever reason.
For more download our comprehensive property price update

As ever, the averages for Greater London distort what is actually happening on the ground. For those areas which have seen huge growth over the last 10 years, such as the likes of Hammersmith and Fulham as well as Tower Hamlets, prices are seeing falls of over 5%. Although this doesn't seem like a big deal for most, with average house prices of £500,000 plus, this gives the media their scary headlines of Londoners having £25,000 or more wiped off the value of their home. However, it's all relative and for those who bought a few years ago this will be nothing compared to the gains they have made since the credit crunch hit.
Hometrack's index also shows that although 42% of boroughs in London are seeing falls, the majority of 58% are still seeing rises. This is mainly a 'inner' vs 'outer' London picture with the boroughs on the fringes such as Redbridge still seeing nearly double-digit growth. So for some there are falls while others are still seeing pricing pressures which are good for sellers, but not so good for first-time buyers.
However, this is a good time for those who are not on the ladder to start looking to see what can be achieved either on the open market or via Help to Buy or Shared Ownership. Negative media headlines tend to put people off looking, while in actual fact it can be a good time to bag a bargain – as long as you can hang on to the property for the next five years or more to ride out the uncertain times.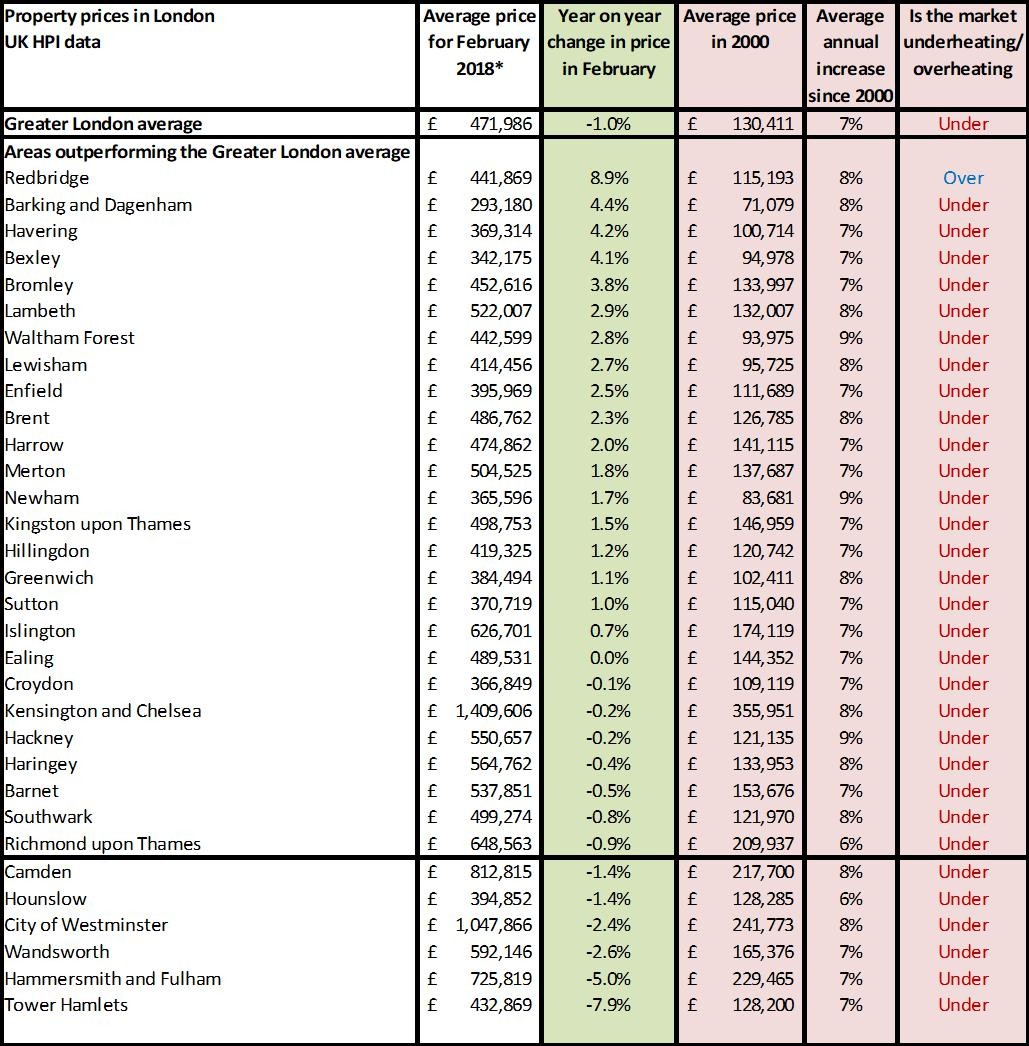 Source: UK HPI

Despite the constant accusations that landlords are charging 'extortionate' rents or allowing them to increasingly 'skyrocket', the data shows that rents have been extraordinarily slow to move forward – on average – over the last 10 years versus inflation and especially versus the 40-80% growth in property prices. It's also clear that rents are currently steadying in the capital, which will be welcome respite for those who are struggling to pay the rent. What will be interesting is to see what happens in comparison with social rents over the coming years as typically social rents increase in line with, if not above, inflation – while private rents can only move in line with wages, which are rising more slowly. The low growth also confirms that just because landlords are experiencing increased taxation, they are not passing this cost on to tenants – not yet at least. This may change over the coming year or two as the mortgage interest relief bites but, so far, rents in the Capital remain naturally capped by wages, which as we know are not keeping up with inflation, so both tenants and landlords are suffering from poor wage rises.
For more download our comprehensive property price update