Are London prices really slowing?
London report headlines
Rightmove "Marginal drop in new seller prices outpaced by existing sellers' price cuts"
Nationwide "London house prices fall for first time in 8 years"
LSL Acadata HPI "London prices continue to slow with transaction levels down 3% in 2017"
Hometrack "Price to earnings ratio in London reaches 14.5x"
Savills "Has London's market run out of steam?"

Source: UK HPI

We've all seen the recent headlines "London property prices expected to drop in 2018" and "South-West London sees biggest house price falls in capital" which have been generated from the property price reports all suggesting falls or cuts in the last quarter. However, there is no real need to worry – nor too many reasons to get excited. Average house prices for first time buyers remain at 3x the level they do for other areas of the country. Although low interest rates have helped, borrowing £300,000 potentially only costs £1,435.69 a month at 3% on a repayment basis over 25 years, this does mean, if renters can bag a tenancy at £1,250 a month, considering they won't have service charges on a flat or maintenance to pay, and with prices stagnating, there is no rush for anyone to buy. Hopefully this will make it an easier market for FTBs on-going, although securing a deposit is still the biggest struggle, even with the attractive London specific Help to Buy Scheme. What's good news for FTBs that think it's still impossible to get on the ladder is there is a big effort being made to bring more affordable homes onto the market, specifically by shared ownership. I hope by the next update there is a confirmed housing strategy following the recent consultation.
The reality remains however, that over the last 10 years, property prices in the capital have outstripped earnings – especially in the public sector – growing on average by in excess of 60%, with some boroughs growing last year alone by 10% or more. So the predicted small downturns of a few percent or even more, is hardly likely to put much of a dent in affordability or make properties in particular more attractive – probably bar the more volatile international market in Zone One which have been hit by high taxation, making other capital cities more attractive.
For more download our comprehensive property price update

Over the last 10 years, the difference in growth in house prices due to wealth in London is astounding. UK HPI figures show over the last five years 45% growth in Kensington and Chelsea through to a staggering growth of nearly 80% in Haringey. Savills' latest information suggests over the past 10 years, Hackney has grown by 103% while Hounslow has seen a 54% increase. In reality, the growth we've seen in Hackney is similar to historic growth, but what's interesting here is that Hounslow is used to, since 2000, seeing an 8% growth annually, whereas since the credit crunch, average annual growth has almost halved to 4.5%. With other boroughs not growing at their previous annual highs, it's clear that the huge increases in London have not only slowed recently, but have not ever recovered their historic growth since the credit crunch.
It's likely that this is due to new affordability checks and the limit on the amount mortgage companies can lend at 4.5x income, both of which are reducing the amount buyers can offer. This, coupled with a reduction in house price equity growth (in some boroughs) and talk of 'falls' in London, are likely to calm the market for the next few years, albeit I'm afraid due to the lack of stock versus demand and wealth that exists in London, this won't mean the crash that many buyers are hoping for and sellers/homeowners can, at this point relax.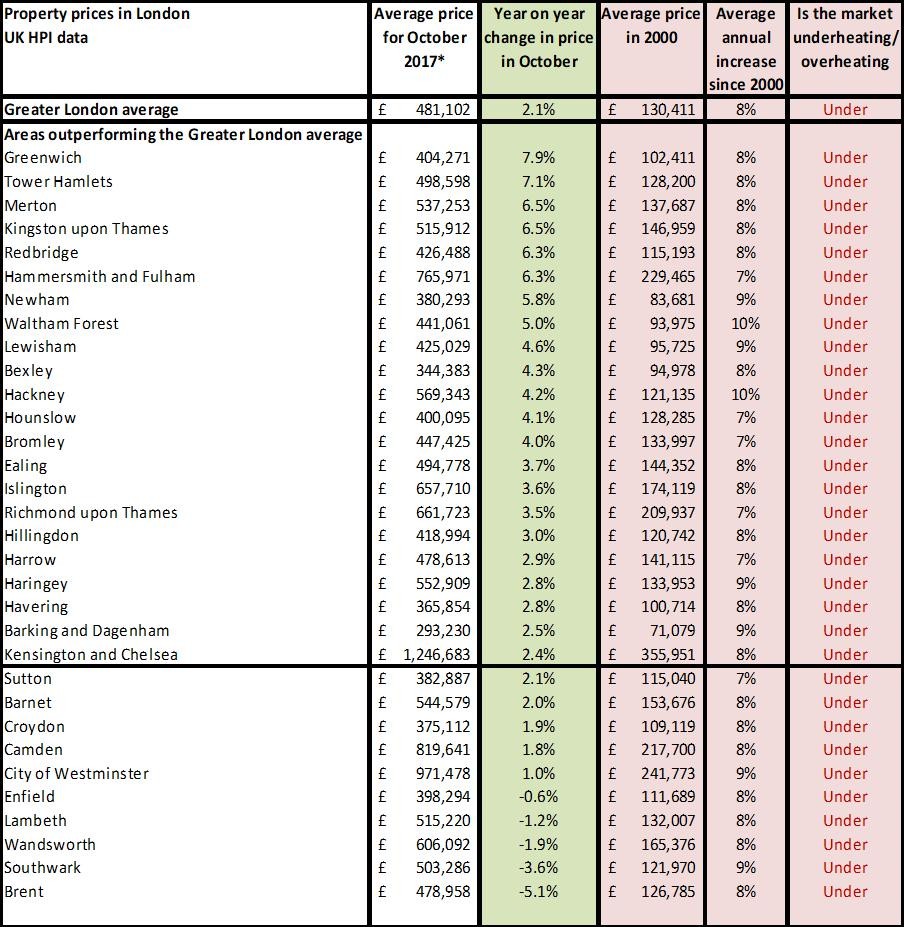 Source: UK HPI
What this data shows is that viewing the London market as 'one' is absolutely pointless. With average prices ranging from under £300,000 in Barking and Dagenham through to over £1.2m in Kensington and Chelsea, average annual house price growth ranging from a fall of -1.9% in K&C through to growth of +14% in Camden and long term annual rates of growth running at 7% through to 10%, what's really clear from this individual borough data is that wealth is the main driver of property price issues in London, coupled with lack of stock versus demand. Although government and others like to blame developers and landlords for the problem, the issue is beyond both of them. Capital cities need rental properties and it's highly unlikely that the level of stock required is going to be fulfilled by large institutional investors – public or private. Sadly, it's going to take another year or two for this realisation to kick in and up until then, although prices are expected to slow growth wise, or even fall slightly, this is unlikely to help people on the ladder. A slower market will naturally mean less development, denting the impact Help to Buy might have been able to make – albeit that this was always tiny in London anyway. Although there are still some areas left where you can still find properties for sub £250,000 (Barking and Dagenham), buyers could be wise to move to areas such as Peterborough or Reading to settle in areas where there is still some price growth potential which may allow them to move back into London at a later date, or realise that living outside the capital is not such a bad idea and commute times can be pretty similar.
What is the future for London Prices 2018 and beyond?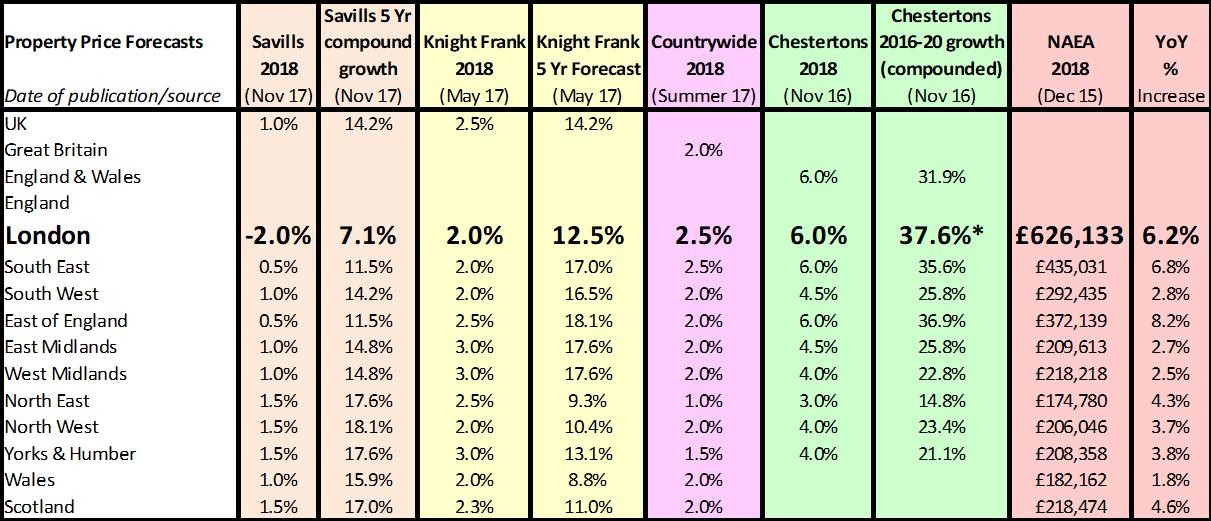 *Compounded
Despite the 'shock' reporting of house price growth slowing in London, we've seen it coming for 10 years. Only areas like Hackney and to date the likes of Kensington and Chelsea are seeing previous growth at historic levels. The forecast of just 7% from Savills over the next 5 years is lower than house price growth previously achieved in just one year. Although this is likely to be quite a low forecast, my view is that property prices will probably still remain strong, as long as there is no other intervention or economic fall out, hence I think we'll see more of the 3-4% growth seen in outlying areas such as Hounslow over the last 10 years. But in reality, when pricing a property in London to buy, it's only the local expert agent selling similar properties at that time that can advise on what to price it at and surveyors who can value on behalf of buyers will be an extremely worthwhile investment to ensure you don't over pay.

Note: the large decrease in Belvoir rents is chiefly due to the loss of some London offices, including Hampstead and Balham, where rents averaged £3,770 and £1,280 respectively.
Despite the anti-landlord culture, with prices growing at 45% to 80% in London over the last 10 years and rents growing at a fraction of this level, landlords have clearly not, in the main, been 'fleecing' tenants. Indeed, quite the opposite, and it's a struggle to see whether they have even increased rents in line with inflation, let alone wages and especially, not with house price growth.
Sadly though this is likely to change over the next five years. The attack on landlords is only going to hurt tenants who are at the lower end of the market, driving up the cost of letting in the Capital which will be passed onto the tenant. Already councils are struggling to house people and offering large sums of money to attract landlords, but as both social and private landlords have suffered from substantial rent arrears due to changes to housing benefits, this situation is going to get worse and the only next tenure will grow is: B&Bs or being on the streets – hence the enormous rise in homelessness. Although this will be blamed on private landlords for a while, the realisation that the actual problem is a lack of social housing for vulnerable people on low incomes, will eventually kick in and it's likely that with hindsight the attack on private landlords will be seen as poor policy which ended up costing tax payers more in housing people in B&Bs and the subsequent long term damage that this causes families. It's such a shame the government didn't choose to work with them as they have developers, or this tragic and unnecessary situation could be reduced. Whatever happens, long term social housing to help the vulnerable and low paid in one of the world's top capital cities is clearly the only way to solve the issue, coupled with better government, local authority and private landlord relationships.
For more download our comprehensive property price update