publication date:
Feb 4, 2014
|
author/source:
Kate Faulkner, Property Expert and Author of Which? Property Books
Greater London rents static to falling in 2013
In
Greater London
, the rental indices of
LSL
and
Homelet
indicate rents rising slightly at 4% and 2.1%. However, Belvoir shows a fall of -4.2% and Move with Us a slight decrease of -0.8% year on year.
Greater London has seen some good rental average rises over previous years, but in 2013 rent rises have slowed and in some areas falls up to 4% are being recorded.
If you are a landlord/tenant in an area, such as
Greater London
, where rental values range from around £1,130 through to £2,200 via the Move with Us index, indications are that the higher rental average include rental averages from the 'prime' rental market. In the more mainstream London rental market, typically rents in the region are levelling out or even falling.
Landlords – When the market is static, minimise your costs and ensure you keep good tenants. Don't skimp on maintenance as tenants want to live in a 'home' - not just any property.
Visit our

Choosing a Letting Agent Checklist.
Tenants – When some rents are rising in some areas and are more stable in others, check out what's happening in your local area rather than relying on media reports. Always try to get a good deal on rents if you want to rent long term. Visit our Renting a Property Checklist.
Letting Agents – As with many areas across the UK, stock can be very difficult to get hold of. To get the best tenants and landlords, ensure you are registered with ARLA or NALS and offer client money protection. Long term landlords will work with agents who give the best service – not the cheapest commission.
Prime Rental Markets

According to Savills' Spotlight on Prime Rental Market, over the past two years, "rents have shown little growth across the prime residential markets".


The data below shows in the main, rents are stable or more likely fallen – especially on a quarter by quarter basis.

What's interesting is they show that although property prices have rocketed in these areas, rents have, bar Prime East of City fallen, confirming there is little relationship between prices and rents charged. The latter being far more restricted by what people earn, even for the wealthy!

For those investing in Prime Central London for their pensions, it is clear this is a market to build a successful pot of money as opposed to relying on the income long term to provide retirement funds. A fall of 5% while the cost of living is going up by 3% every year is never good news for the recipient, so it's vital anyone investing in this sector seeks good quality financial advice to ensure their overall portfolio is balanced.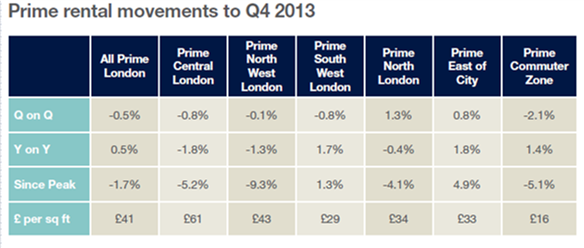 Source: Savills

Forecast for the Prime Rental Market
The good news is though, by 2016, Savills are predicting the prime rental sector will grow in excess of inflation rates. "Over 2013 we saw marginal rental growth in prime London but, given the recent increase in applicants and improved outlook and prospects for the economy, we expect this to pick up in 2014. From 2016 onwards we anticipate rental growth to be increasing by 4.5% per year."
DOWNLOAD
the full version of
'What's Happening to all the National Rents' HERE
!

For FREE, independent and up to date advice on Buy to Let or Renting a Property, sign up for FREE to Property Checklists. Join now to access our FREE property checklists, including:-