The new Living Home Standard – what do you think?
This week Shelter launched a new idea called the Living Home Standard' (LHS) which it has created from an Ipsos MORI poll to find out "what an acceptable home should provide" and then assessed whether homes are achieving them or not.
The idea, from what I can gather, is to have something similar to the living wage idea, which I wholly support.
However, there is a big difference in that the Living Home Standard' has been created by the public – so it's more of a 'wish and a wants list' - whereas the living wage is set by the Living Wage Foundation and calculated by the Centre for Research in Social Policy at Loughborough University.
So what is the Living Home Standard?
Shelter state that the LHS "represents the first definition of what home means that has been defined by the public, for the public." It provides a framework of what the nation believes an acceptable home should give to people and how the places we live should function in order for us to have a firm footing in life.
After extensive research over a period of nine months, the public view on what every home should provide has been disseminated into a series of statements across the following five areas:
Decent conditions

Affordability

Space

Stability

Neighbourhood
Within these five sub-sections, there are 39 attributes which make up the LHS, each deemed either essential or tradable.
Essential attributes are pretty self-explanatory but tradable attributes are features that many people considered important but were not always applicable or desired by everyone.
To meet the LHS a home has to possess all of the essential features and some – between 33% and 50% – of the tradable features in each of the five subsections.
Decent conditions
Essential attributes
To have decent conditions under the LHS, a home must have hot and cold running water and be able to be heated properly and safely. It must also avoid safety issues such as dodgy wiring and fire hazards. The property should be both structurally sound and feel physically secure by having enough locks, for example. It should possess a toilet and a bath or shower, as well as being free of damp and mould. There should also be no pest problems. Finally, there should be plug sockets in all the major areas and the property must be suitable for the current age and disability needs of all household members.
Tradable attributes
Ideally, sleep and other daily activities should not be regularly disturbed by outside noise. You should have enough natural light in the main areas of the property and be able to dry laundry without the risk of damp and mould issues. Finally, you should be able to access the internet at home.
How are our homes doing?
The 'decent conditions' category is arguably the most important area that was researched. If you are not living somewhere with decent conditions you are putting your well-being, and maybe even life, at risk.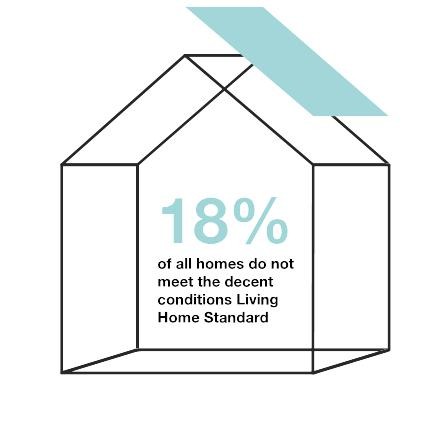 Shelter says: "Renters are over twice as likely as homeowners to fail the criteria for decent conditions. One in 10 people live in homes with mould or damp problems that cause them to fail the standard."
Affordability
Essential attributes
To meet the affordability standard you should be able to keep up with rent or mortgage payments and not have to reduce spending on things such as food or heating frequently. You shouldn't need to worry that payments might rise to such an extent that you would struggle to pay.
Tradable attributes
Ideally you would be able to meet payments without regularly missing out on social occasions and have enough money left to put away to cover unexpected costs.
How are our homes doing?
Affordability was regularly at the top of the list of importance when it came to what constitutes a suitable home. Unfortunately, it was also the area that saw the greatest volume of properties fall short of the LHS.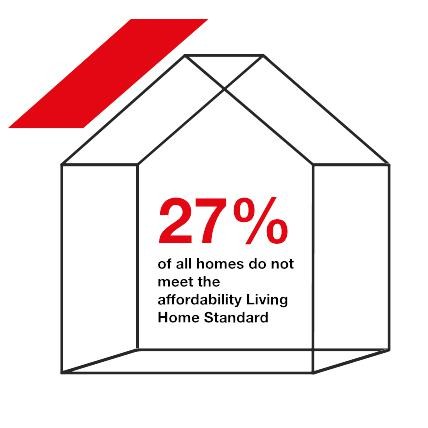 Shelter say: "Aside from a home over their head, each person should be in a position to afford modest everyday experiences which add to their mental and physical wellbeing."
Space
Essential attributes
You should have enough beds for all members of the household. There should be space to allow each member to have privacy should they wish but also enough for everyone to be together in the same room. There needs to be space for the preparation and cooking of food, plus storage for essentials such as clothes and bedding.
Tradable attributes
These include outdoor space – whether a garden or private balcony – and bathroom facilities so that everyone in the household can use them at their convenience. Ideally, there should be space to entertain and, if needed, there should be space for you to work or kids to do homework. A sofa or sofa bed for overnight guests is deemed desirable, as is storage space for domestic items and personal belongings.
How are our homes doing?
Lack of space has a detrimental impact on household relationships and is a significant cause of stress. We need space for things like cooking and storage but it is also vital for wellbeing.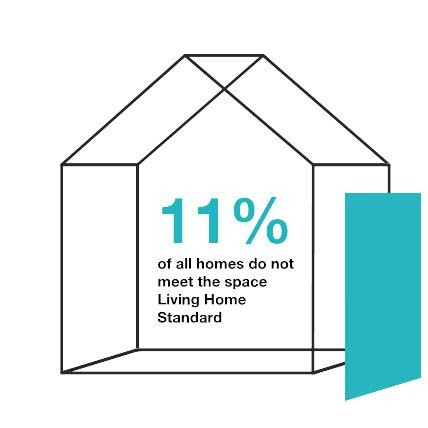 Shelter says "a lack of space is a particular problem in London, where one in four people fail this dimension. Across Britain, we also saw over one in five social renters fail to meet the criteria for space."
Stability
Essential attributes
Your household should have enough control over how much time they can live in the property.
Tradable attributes
If given notice to leave a property, people want to be given a reasonable amount of time to find somewhere else to live. Other tradable attributes include being able to stay long enough to become a member of the community, if desired, as well as being able to decorate and keep a pet.
How are our homes doing?
Is your house really a home? How long can you live there for? Although this area is seen as more of a renter problem, it can affect homeowners too.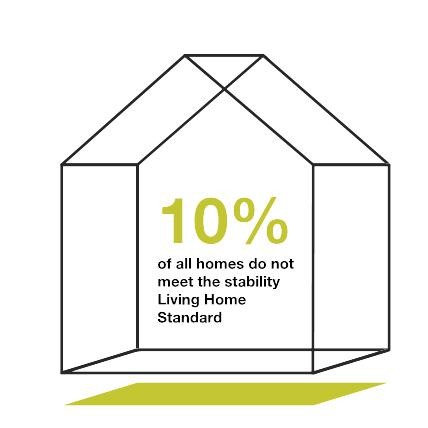 Shelter says: "One in four private renters do not meet the stability dimension of the standard, with the majority [of these] failing because they feel that they don't have enough control over how long they can stay in their home."
Neighbourhood
Essential attributes
You should expect to feel safe and secure where you live.
Tradable attributes
Ideally, homes should be within a reasonable distance of amenities such as local shops, your support network (friends or family) and within an hour of your place of work, in normal conditions.
How are our homes doing?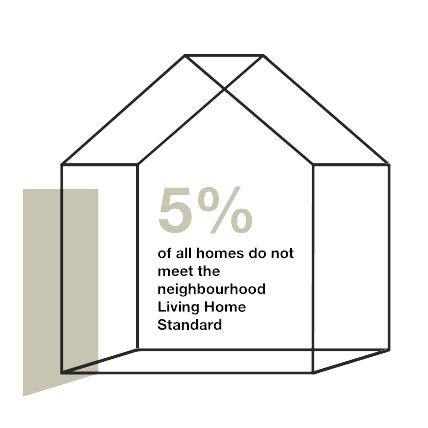 Shelter says: "The public felt that feeling reasonably safe and secure in the local neighbourhood is the most important attribute in this dimension, and one that over 95% of people say they meet."
For more download the comprehensive Living Home Standard report.
I'm really interested in what you think about the above – does this reflect your thoughts of a 'living standard'? Or do you think that there are things that have been missed or that expectations are too high? Contact me.