HS2 – good, bad and the ugly and what you need to know about compensation and house prices
Despite considerable opposition, the government has confirmed its commitment to HS2, with the first phase scheduled to be completed by the end of 2026.
Transport secretary Chris Grayling says Britain needs the high speed link between London and the North "now more than ever" to cope with population growth and has insisted that it is "going to happen".
And while some people will welcome the prospect of faster transport links between London and Birmingham, if you live along the route you may be concerned about the effects on your property.
What is the impact of HS2 route on house prices?
Courtesy of Countrywide, the image below shows the change in prices by distance of areas on the route of HS2 since 2009 and in the last 12 months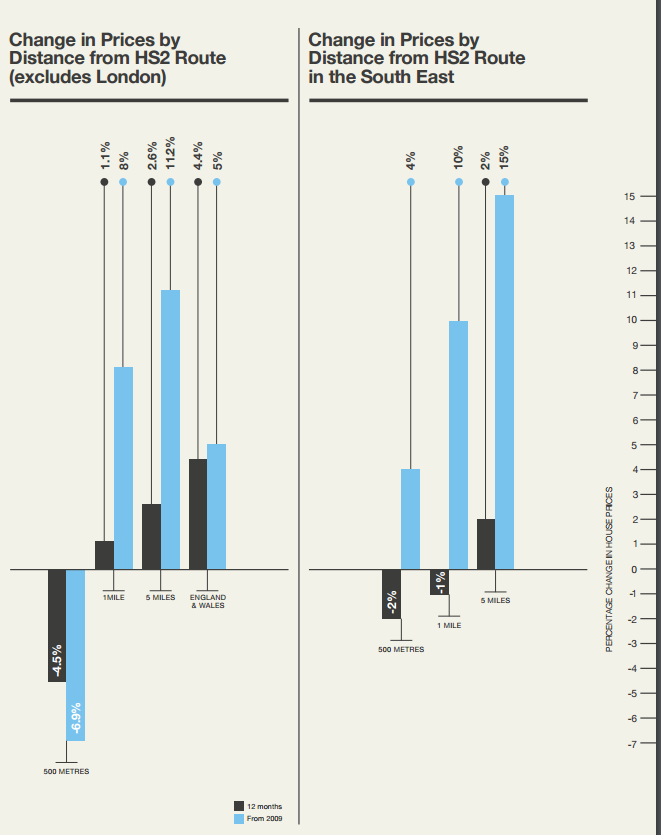 Will your home's value go up or down? Or will you have to move to make way for the development?
If the proposed line goes through your property, you should already have received a letter from the government informing you that your property may be subject to a compulsory purchase order (CPO).
It's important to keep all documentation and correspondence relating to the CPO, along with any receipts for your expenses relating to the order, as you may be able to claim them back as part of your compensation. If you move, these include legal fees, stamp duty and removal expenses.
You cannot expect to get rich from a CPO; you should end up no better or worse off than you were before the process began. If you are forced to sell your property to the acquiring authority (in this case, HS2 Ltd), it should be for the best price you could expect to get on the open market. You may also get Home Loss Payment, an additional compensation payment "to reflect and recognise the distress and discomfort of being compelled to move out of your home".
Aside from the upset and trauma of having to leave a much-loved home, perhaps the worst situation to be in is negative equity. In this case, the outstanding mortgage will be paid off by the acquiring authority and the lender retains the right to recover any outstanding payments and interest from you, the borrower. You may, however, still be entitled to a Home Loss Payment of between £4,700 and £47,000.
But you don't have to lose your home to be affected by HS2. A report by estate agents Countrywide and Hamptons into the effect of transport infrastructure on housing, says "There is evidence that the housing market within 500m of the proposed line is negatively affected. Transactional activity fell by 2% in 2013, while those in the wider South East and West Midlands regions grew by 13%."
The report uses the known effects of HS1 on the relevant property markets to gauge the possible effects of HS2. It concludes that, not surprisingly, it is those properties closest to the development which are likely to be most affected, albeit temporarily. In Kent, properties nearest to construction sites dropped in value sharply as work began; but soon recovered.
The report says: "This temporary, negative effect suggested that the actual disruption was more tolerable than expected."
Once prices began to climb again, it was properties within five miles of stations which saw the biggest increases, rather than those within a mile of stations.
But if you believe your property's value is going to be affected by HS2 – whether temporarily due to the actual construction work or by the ongoing effects of the new rail line itself - you may be entitled to compensation. The criteria are very particular; you cannot claim for loss of view, for instance, but you can cite noise, light, fumes and smoke as factors which could devalue your home.
If you live on or near to the HS2 route, do get professional advice to ensure you get the correct level of compensation.
Are you worried or do you have any questions about HS2 and how it may affect your property? Then do contact me.