How big is the bank of mum and dad?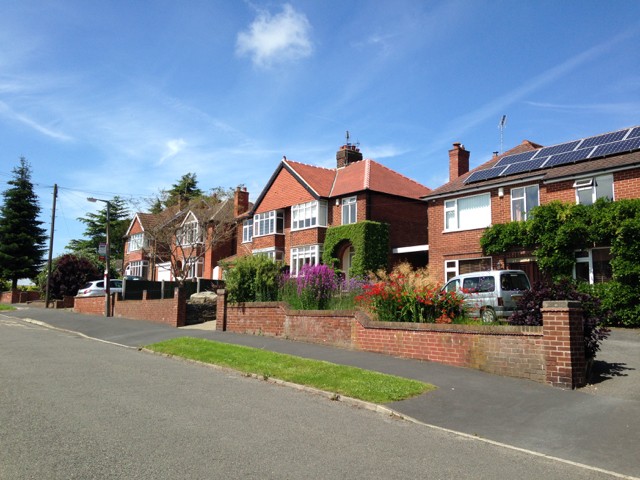 A report into the impact of family support on home ownership has revealed a historic high in the use of the Bank of Mum and Dad to get on the property ladder – but should we be alarmed? I'm not convinced we should.
First-time buyers rely on Bank of Mum and Dad
The Government's Social Mobility Commission research says over a third (34%) of first-time buyers rely on parental gifts or loans when it comes to purchasing a home, up from 20% seven years ago. They say the trend looks set to continue and warn it will have 'damaging consequences for social mobility'.
But let's turn that figure round for a moment: that means a healthy majority – 66% – are managing to buy their first home without parental help. Similarly, the report states that more than one in 10 first-time buyers rely on inherited wealth… well that means 90% don't.
And I'm not that keen on the word 'rely', either; the reality is that we are now third-generation home-owners, with more than half of us now owning our homes outright. This means parents and other family members are in a stronger position to help; and who wouldn't want to help their kids if they could? So, is the Bank of Mum and Dad more active because parents can help, rather than because they need to?
The report says the average income of London households 'relying' on parental support is £40,900. Compare this to the average income of those households in London which don't rely on help. That's £42,400 – hardly a ground-shaking difference, is it? Again, this supports my view that, for many, the Bank of Mum and Dad is a helpful top-up, rather than a necessity.
If you're buying for the first time don't forget to read our FTB quick guide.
Home ownership falls for 25-29-year-olds
The Social Mobility Commission reports that home ownership for young people has fallen to 31%, from 63% in 1990. The age at which people are buying their first home is also getting higher.
I appreciate on the surface this looks scary. However, the reality is that we live in a much more mobile and uncertain world. If you can rent a decent property – often in expensive areas for much less than you can buy and paying no more dead money than you would be paying to a lender as opposed to a landlord - why would you buy? You'd have to give up the 'good life' for some years to raise a deposit and then you'd have to pay more in repayments. Of course, you gain if prices go up, but they aren't predicted to grow at the rate they have in the past. In 2017 for example, property prices aren't expected to rise by more than a few percent.
And, while it's no surprise that the biggest fall in first-time buyers over the last 10 years has been in London, where the average entry level home costs between £250k and £300k, the second biggest fall – by 22% over the last 10 years – is in the North East, where house price growth has been minimal and, in fact, many properties are for sale for less than they were due the recession. This leads me to believe there are factors other than cost at play and it requires further investigation and research to understand why first-time buyers aren't purchasing in areas where property is as affordable as it was 10 years.
In conclusion, fewer young people may be buying homes but we need to understand why – rather than assuming it's an affordability issue as the numbers just don't stack up, in my view, to justify this 'blanket' assumption.
Perhaps one of the main reasons why there is such a fall in FTB numbers is that the PRs and media are constantly telling 20-somethings 'you can't afford to buy' – many I speak to are stunned at the actual price of a property and that even in areas like London, shared ownership allows you on the ladder from £70,000.
Getting on the housing ladder
The report says young people on lower incomes are finding it almost impossible to get a foot on the housing ladder and I suspect that's no different today than it was 10 or even 20 or 30 years ago. What the report fails to mention is that interest rates are currently at an all-time low, just 3% versus the highs of 10-15% in the past. And deposits required have only gone up little if you work on requiring 5% (eg via Help to Buy) rather than the huge deposits Bank of Mum and Dad are allowing FTBs to put down. It is important to note that, often, bigger deposits are being put down these days because people can, rather than because the higher amounts are necessary.
Very few reports today have also mentioned that researchers are projecting the number of first-time buyers will rise slightly in the short term, suggesting more people are getting on the ladder, although they do predict fewer will in the future.
What I'd be interested in comparing is how many media reports focus on buying a home with a small deposit against those telling people it's impossible to get on the property ladder.
Lets work together to inform people who think they can't buy a home by helping them learn how they can.
Worried about a mortgage as first-time buyer? Here's how to secure the right one.
Having done a Q&A session with Radio Nottingham this morning, I found there are plenty of affordable properties are out there and, with schemes such as Help to Buy and Shared Ownership, there are many options available to first-time buyers. After a quick search for homes in Nottinghamshire, where I live, I found:
More than 100 properties within half a mile of Sherwood for under £100,000 (mostly 2-3-bed homes);

More than 30 properties in Arnold for under £100,000;

More than 20 properties in Netherfield for under £100,000;

More than 20 properties in Clifton for under £125,000;

Nearly 15 properties in Nottingham available via shared ownership for under £60,000 – one as low as £21,000!
As for property price changes, it's interesting to note that, in Nottingham city centre, over the past 10 years the average property has gone up by 5%... an increase of just £600 a year. It's a little more in Nottinghamshire; 8% over 10 years, so £1,000 a year.

And, looking ahead, the forecasts show 'no growth' expected in prices this year, and a 2% increase in 2018.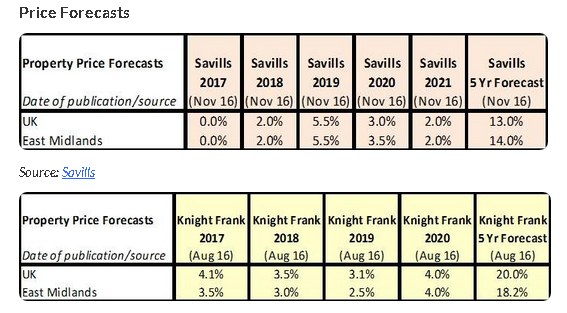 Solving housing issues
It can't be denied that there are housing issues and I do agree with Alan Milburn, chair of the Social Mobility Commission, when he says: "A major national effort is needed to expand opportunities for home ownership and will require more radical action on housing supply."
And even though I don't agree with much of the information in the Social Mobility Commision's press release, I do agree with many of their suggested policies. In the recent State of the Nation 2016 report, they recommended the Government should:
Commit to a target of three million homes being built over the next decade with one third – a million homes – being commissioned by the public sector.

Expand the sale of public sector land for new homes and allow targeted house-building on Green Belt land.

Modify its Starter Home initiative to focus on households with average incomes and ensure these homes when sold are available at the same discount to other low-income households.

Introduce tax incentives to encourage longer private sector tenancies.

Complement the Heseltine Panel's plans to redevelop the worst estates with a matching £140 million fund to improve the opportunities social tenants have to get work.

But meanwhile, let's start showing people how they can help themselves, instead of reinforcing the myth that home ownership is an 'impossible dream'.
You can read the report for yourself here and don't foget to download our FREE first-time buyer eBook.