publication date:
Mar 20, 2019
|
author/source:
Kate Faulkner, Property Expert and Author of Which? Property Books

Kate Faulkner's latest property price picture
National price picture
For the property market 'to keep going' ideally we need the annual rate of property price growth to lag behind wage growth. However, this hasn't been something we've experienced, certainly up until the credit crunch and this trend definitely hasn't existed since then, bar the last year or two in London, the South and East Anglia. However, with affordability in these areas hitting the buffers and even though property prices are still rising in most of the Midlands/North, Wales, Scotland and Northern Ireland, according to Rightmove, "annual wage growth of 3.4%* is now outstripping asking prices at the fastest rate since 2011, improving buyer affordability".
Read the full price report for more details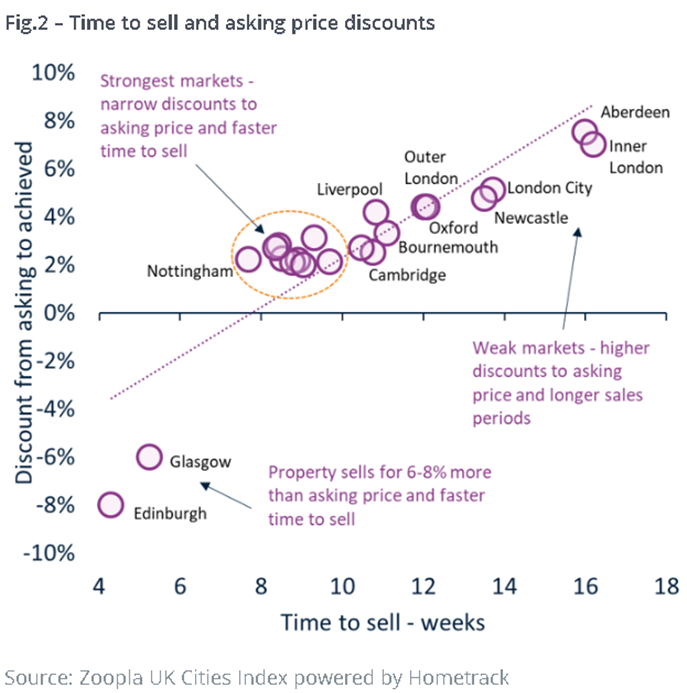 Source: Hometrack


Country and regional summary

From a country perspective, Northern Ireland is definitely in the lead with prices up 5.5% year on year and volumes up for the first half of 2018 by 108% versus the disastrous year of 2009. However, it's only really the current and recent market that is 'looking good'. For those that bought at the height of the market, prices for some will still be around 40% lower than they bought them for. According to the RICS, the strongest price expectations over the next 12 months are "Northern Ireland and Scotland, followed by the North West of England and Wales". And it's not all 'bad' news for London either – from the RICS five year forecast prices "across the capital (viewed as a three month average) prices have risen above the national average over recent months with a growth of 2.2% per annum expected nationally compared to 2.6% for London."


Regionally, the property market from a price perspective is 'all over the place'. London has managed to achieve 4-5% annual growth since 2005, while the North East which should by now be benefiting from a price boom similar to that seen in the North West and the Midlands, is hardly seeing any growth at all. Year on year prices are down by 1% and long term growth either non-existent or seeing slight falls. Although we are used to a 'ripple' effect for price growth, with London leading the way up or down and the rest of the country following, this doesn't seem to be the case in the new, 'localised' property world we are now living in.
Read the full country and regional summary here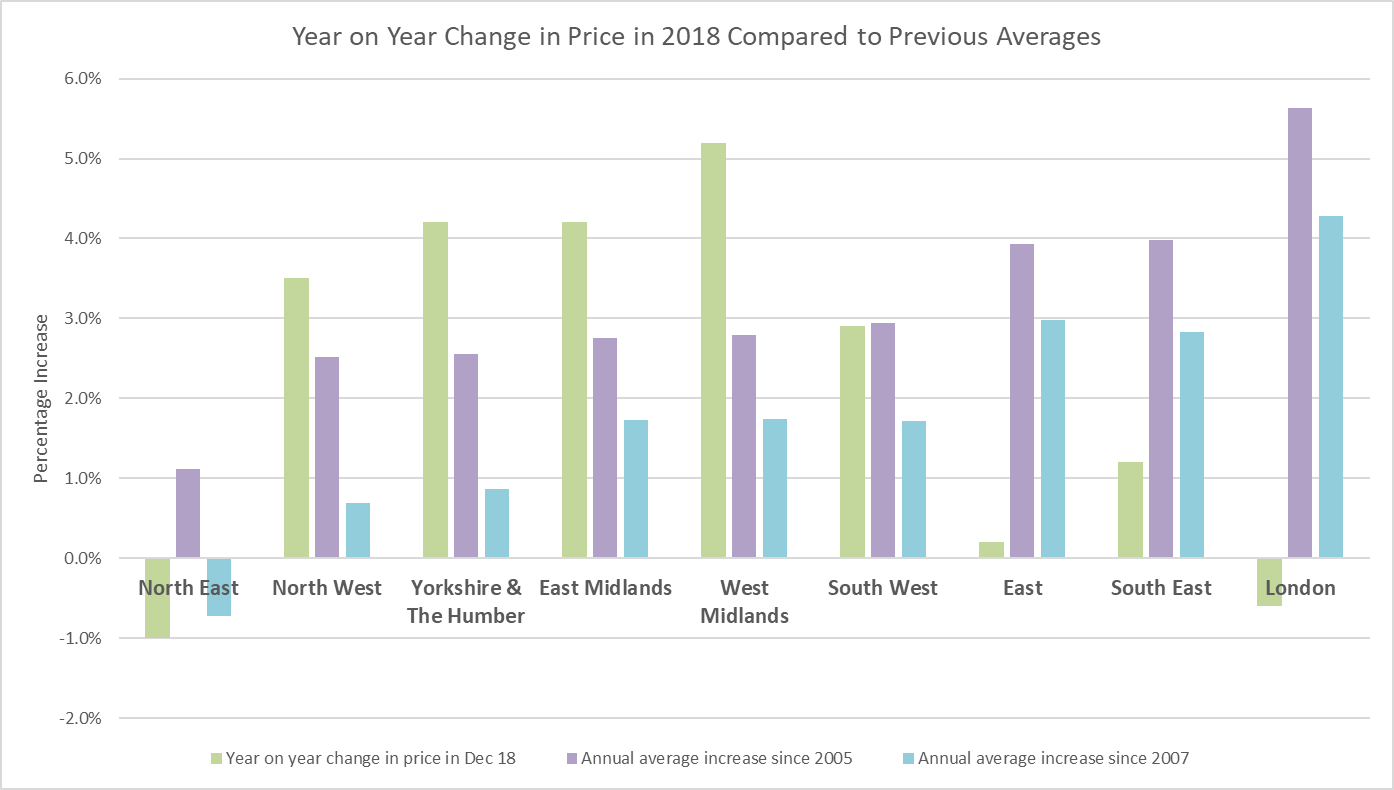 Source: UK HPI
Town and cities price summary
With differing performances by country and region, it's no surprise that when it comes to towns and cities, property prices are performing vastly differently too – as are transactions (see separate article). Leicester is the top city performer according to Hometrack, with Aberdeen continuing to see poor performance as the economy is badly affected by low oil prices. The next big faller should, in theory at least, be Swindon, but this will depend on how much the latest news about Honda impacts on the local community. But for those in Belfast, Leicester, Liverpool, Edinburgh and Sheffield, prices and markets are still buoyant, while previous big performances such as Cambridge, Oxford, Milton Keynes, London and Reading are nearly all either seeing just small rises or falls.
Demand, supply and transactions
According to the NAEA, "in January, the number of house hunters registered per estate agent branch fell from 304 in December, to 297…. Meanwhile, year-on-year, demand has fallen by a fifth (19 per cent), from 367 in January 2018, as buyers hold off on making any decisions, in light of the current political climate. Supply of housing fell by 14 per cent in January, from 42 in December to 36 per member branch". What is incredible is to see how fast transactions have slowed either because an area has out grown affordability or because the fear of Brexit has kicked in, encouraging people to 'to wait and see'. As soon as Brexit is settled, if it gets settled, one way or another, at least this uncertainty will disappear. Once that's settled, we'll either 'bounce back' or 'tip into the red', with the Midlands, North and other regions likely to follow London's falls, despite the fact that affordability is still good and mortgage rates remain low.
Read the complete demand, supply and transactions summary here

PropCast - The house selling weather forecast




Source: The Advisory