publication date:
Oct 17, 2019
|
author/source:
Kate Faulkner, Property Expert and Author of Which? Property Books

A return to a more sustainable pace of price growth?
National price summary
The best chart from all the reports this month comes from LSL Property Services/Acadata. It clearly shows how house price growth has pretty much disappeared 'nationally' since the heady days of 2015 - both in London and further afield. Of course, for many areas this was inevitable after seeing double-digit growth following the recession, when prices fell by around 18%, then quickly recovered until affordability buffers were hit in London, East Anglia and the South. The best quote from the reports this month is from Hometrack who suggest "that the recent slowdown represents a return to a more sustainable pace of price growth rather than an impending re-correction in house prices". The question is, heading to Xmas, will prices dip into the red for everyone - or do the reports suggest that there are signs that things are back 'on the up' again? It would be truly amazing if we do see a bounce considering the huge amount of uncertainty, but whatever happens, in reality, it will depend on an individual property and its postcode!
To find out more, read Kate's property price report October 2019
Country price analysis
This month you'd be forgiven to get very excited about Northern Ireland's apparent growth in prices – if it wasn't for the fact that so many people weren't still so hurt by the huge losses seen in 2007-09. Having said that, it does depend on when people bought; surprisingly, even in Northern Ireland, money from property could have been made with the average property being worth nearly 40% more than the lows seen in 2009. Wales too is doing well year on year, but inflation long term remains low and overall, property here and in Scotland can be considered 'good value' for money. England, mostly led by London, is seeing a pretty flat market currently.
R
e
gional market summary
Regionally, huge differences still remain with London, despite the recent falls still showing almost double the price growth since 2007. For those investors 'leaving' London for more 'northern' climes, they need to seriously think if this is the right decision. Population growth, i.e. demand and indeed wage/price growth north of the Midlands, has been pretty poor since 2007/8 and although investors may 'save' on the Stamp Duty, they may not benefit from the tight supply and demand London/South market, so this may be short-sighted and short-lived. At the other end of the scale, affordability for those in the Midlands and North and even some in the South since the falls, has improved for many first time buyers – at least from a mortgage lending vs average wage front. Not something you'd think had happened with the constant 'it's impossible to afford a home' headlines!
Towns and cities price analysis
Amazing mix of 'best performers' in towns and cities with a spread from Belfast to Leicester, Birmingham, Sheffield and Bradford - so much for the 'ripple' effect - clearly not in play here. Nor is the ripple effect working from a low growth perspective, with Milton Keynes over to Oxford, down to Tunbridge Wells and even further down to Southampton, with Reading 'in the middle' all seeing negative growth according to the Land Registry. London boroughs are seeing vast differences, ranging from falls in Newham of nearly 10% through to rises of 9.5% in Camden. Most reports are saying that London is now seeing a recovery after recent falls. So we are in a weird position nationally where in London we've seen a recession through to 2009, prices then rise in double digits, then slowing and falling and now back on the rise. Meanwhile in the likes of Newcastle, we saw falls in 2009 of 19% and this has yet to see prices recover to their pre-credit crunch level. Crazy times and goodness knows what 2020 will bring!
To find out more, download Kate's property price report for October 2019
Property transactions, demand and supply
What an incredible mix of views from the reports on transactions. Some are saying demand and supply are down, others that demand is up with supply tight and sales looking good. Anecdotally I am being told that for some it's pretty rough on the stock and demand front, while for other companies, sales are pretty good, with the NAEA in particular saying buyer and sales' numbers are high. Meanwhile at a postcode level, according to the Advisory, this 'mixed bag' is definitely reflected across England with an amazing blend of hot and cold property areas. In the top 10 cold postcodes, nine are in London and the 10th in Liverpool! From a 'hot' market perspective, Sheffield and Bristol appear to be the most popular markets - for now.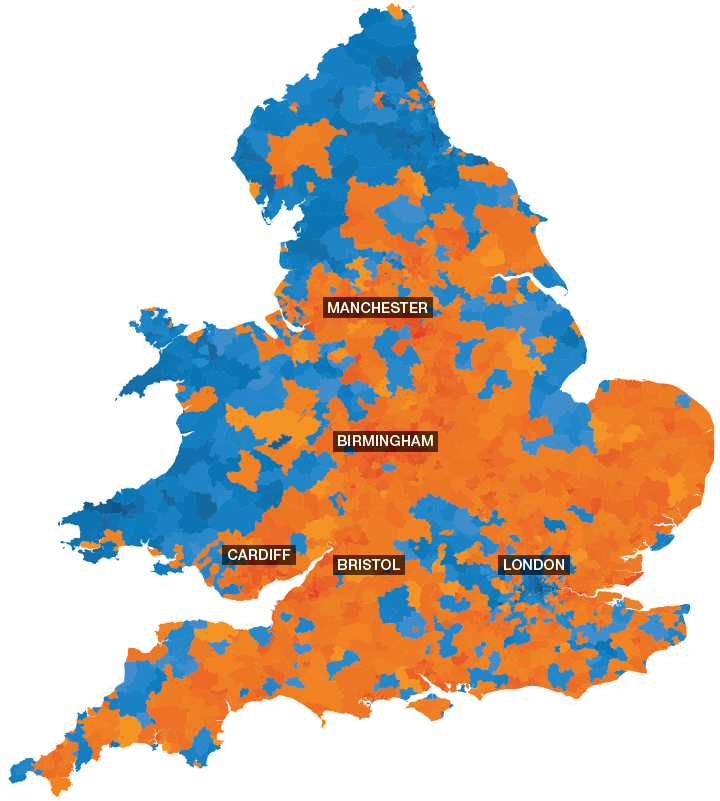 Source: The Advisory