publication date:
Jan 9, 2017
|
author/source:
Kate Faulkner, Property Expert and Author of Which? Property Books
Are rents about to outstrip property price growth?
Landlords' fortunes could change in 2017, as rental growth could begin to outstrip property price increases for the first time in years – and while many are facing bigger tax bills, they could actually start to enjoy increased yields… and even pick up some bargains.
December's rents are marked by the traditional seasonal drop which makes it a great time for savvy tenants, who know that landlords don't want their properties to sit empty over the often cold festive period.
National Rents
At the end of 2016, average monthly rents fell to range between £737 and £900 in October, to a top monthly rent of £865 a month. With this normal 'downturn', rents are likely to end up being close to moving in line with inflation year on year – as long as you are with a decent agent such as Belvoir, Countrywide, Your Move and Reeds Rains and not a landlord/agent who takes advantage of rental shortages. However, with landlords facing increased costs and reduced profitability, this is unlikely to last and rents could be set to rise in 2017.
For more - download our comprehensive rental summary.

Regional Rents
Regionally, rents don't show the diverse performances of property sale prices. The ONS is probably one of the most robust indices and is now showing that rental growth varies monthly, from hardly anything in Scotland through to a pretty reasonable 3.4% in the South East.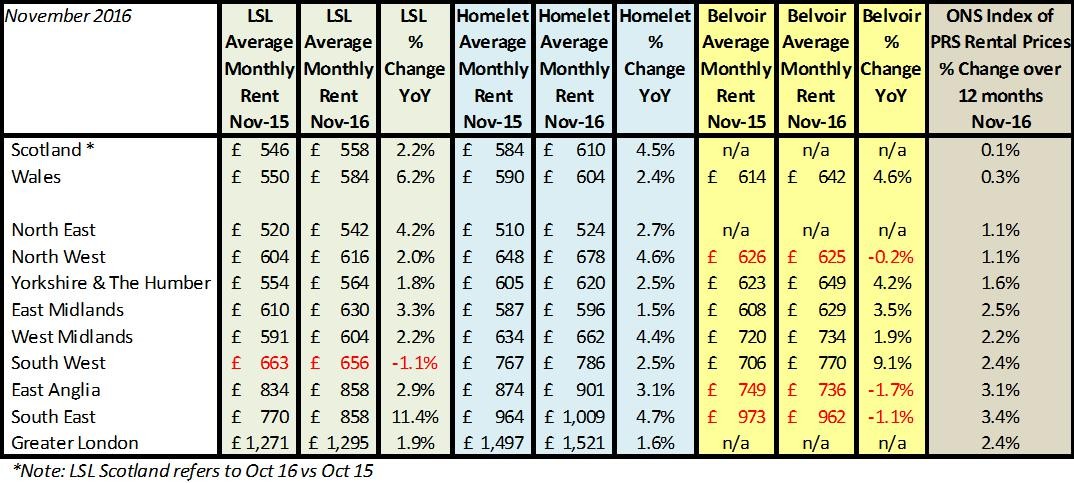 And unlike house prices, even in areas such as London where there is a huge lack of stock, rents don't seem to rise much higher than wage increases, on average.
Looking to rent this year? Read our how to rent guide.

Yields
But this could all change this year, as rental stock is likely to fall over the next 12 months, due to the increased taxation of landlords. Property investment will be heavily taxed compared to financial investment and this could deter many first-time landlords, and even some existing investors. In some areas, where prices are rising so much faster than rental income, it is already pretty difficult to get buy-to-let to stack up financially, cutting the yields that can be achieved.
Yields have been suffering for some years now but, again, change is on the horizon as rents are expected to grow more strongly for the first time, while property price rises are expected to soften. On average rents tend to rise around 2% each year (ONS), while the UK HPI index shows house prices tend to rise around 6-8% each year – but this is likely to be reversed this year, causing yields rise.
Want to let in 2017? Read our letting quick guide.
Investors
For those still keen to invest and who know what they are doing, it's looking possible that this year there will be bargains to be had – and they haven't been easy to find over the last few years.
For more - download our comprehensive rental summary.