publication date:
May 4, 2015
|
author/source:
Kate Faulkner, Property Expert and Author of Which? Property Books
Supply and Demand...
To work out what might happen to property prices in the future and whether now is a good time to buy, sell or invest, understanding what's happening to demand and supply for property in your local area is essential.

What's supply and demand like within estate agencies?
A source of checking the current market conditions for supply and demand rather than looking back at what's happened to property prices, is finding out how much stock is on the market. When there are more buyers than sellers, prices tend to rise and fall when vice versa.

The average property stock per branch data (see chart below) from Rightmove for February 2014 through to February 2015, shows the number of properties available per branch during the middle of the year ranging from 70 to 72. These figures then started to drop back in September, lowering to the end of the year, and then rising slightly by February. The average number of properties for sale per agent is 59 versus 63 the same time last year.

The NAEA reported the average property stock figure per branch for February 2015, now stands at 43, which is the same level as a year ago. This is 16 properties lower than the Rightmove figure. The NAEA also reported average sales of properties to be 8 per branch during February 2015, having dropped to 5 in December 2014.

For Sale and Sold Board Analysis
The data revealed by the Agency Express Property Activity Index, monitors the number of 'for sale' and 'sold' boards put up on behalf of agents. It shows the number of new properties coming to the market nationally in March 2015 was +11.6% compared to March 2014. The number of new 'sold' boards erected during March 2015, was also up 14.3% year on year.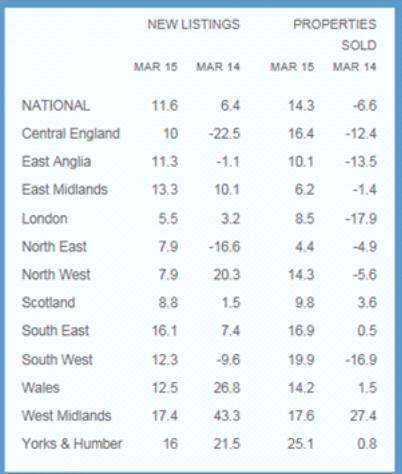 Kate's comments:
"The market is starting to settle down after a crash, a recovery and now it's becoming 'more stable'. However, it is still starved of enough stock which can only really increase with the provision of much needed new supply from developers, housing associations and local authorities. Currently people are staying in their homes for longer, while others choose the flexibility of renting and both of these trends reduce the number of properties coming on the market for sale."

For FREE, independent and up to date advice on Buying, Selling, Buy to Let or Renting a Property, sign up for FREE to Property Checklists. Join now to access our FREE property checklists, including:-