publication date:
Aug 13, 2019
|
author/source:
Kate Faulkner, Property Expert and Author of Which? Property Books

Property prices are falling in real terms for many -
what's happening in your area?
Country price summary
Versus last month, property prices 'on average' have really slowed across all countries. For Wales, Scotland and Northern Ireland, they are only just keeping up with inflation – which with over 50% of people who own a home, owning it outright, means no real house price growth so far this year and for those in England with just 1% increase registering, real property values are actually falling.
Read Kate's full price report here
Regional market analysis
Regionally the differences are stark. Not just from a price perspective but also from different regions showing different trends. For example, London up +53% versus 10 years is not surprising, and certainly as predicted by many, down by -4.4% year on year, but the North East is down year on year too. OK, it's only -0.7%, but considering property prices are still -8% below their average 12 years ago, these are certainly new trends in our property market when both previously strong and weak markets start to fall back. For most regions, even the power houses of the Midlands, price growth across all regions bar the North West are below rates of inflation, meaning in real terms house prices are falling. The question few know the answer to and if they turn out correct, it'll be a good 'guess' as to whether the new 'Brexit' deadline will come and go without affecting the property market or will the fall in the pound mean an unexpected boost for London as international investors can see prices getting a whole lot cheaper.
For a more in-depth analysis, read Kate's report here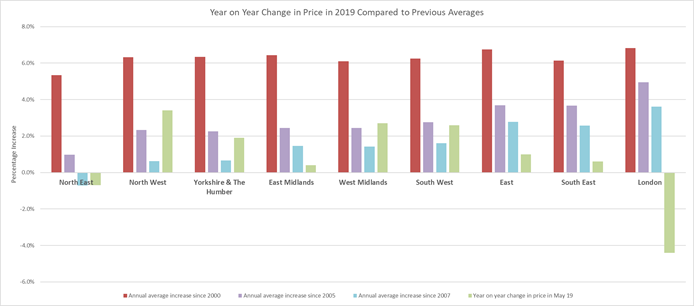 Towns and cities price summary
Although our regions are performing well below previous growth levels, city wise, things are looking better - for some. According to Hometrack, "Edinburgh (+5.1%) is registering the highest growth, followed by Liverpool (+4.9%) and Cardiff (+4.7%)" showing how localised property market performance can be.
Find out what's happening in your town - read more here
Analysis of property transactions, demand and supply
Considering the battering the economy is getting in the press and the fear of Brexit still looming, this month offers quite a positive picture, with the RICS reporting "a more stable trend in supply as far as the latest set of results are concerned with the new instructions indicator edging into positive territory for the first time in a year". Talking to agents and developers, June and July haven't been bad months, the question is whether the likely bad press about a recession and continued Brexit fears will mean people start 'battening down the hatches' come September – as they did last year to 'wait and see' what happens in the New Year. Let's hope instead the pent up demand that definitely still exists carries the market to the end of the year and people's confidence returns in 2020, if all remains calm!