Property market has survived astonishingly well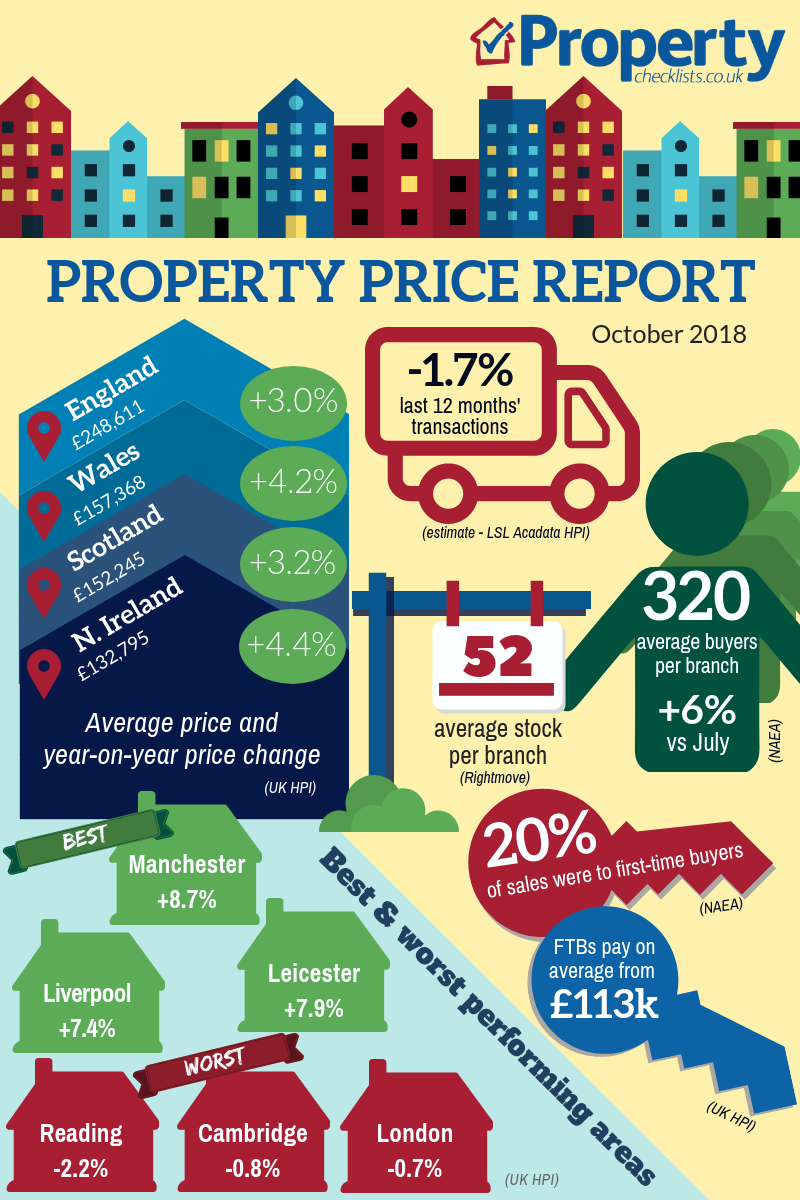 Rightmove "Some positive signs for Autumn market including start of London recovery"
NAEA Propertymark "Sales to first-time buyers at three year low"
RICS "Sales outlook turns more cautious"
Nationwide "Annual house price growth steady in September"
Halifax "Quarterly house price growth remains stable in September"
LSL Acadata HPI "Slow but steady"
LCPAca Residential Index "Weak price growth but transactions stabilise"
Hometrack "UK city house price inflation running at 3.9%"

For more on property prices, download my comprehensive update.
LSL Acadata HPI sums up the current market suggesting that it's "slow but steady". And in the main, this is what most of the reports are saying. Rightmove saw average marketing prices slightly increasing in September; Nationwide pretty much remains the same, while Halifax shows a fall for the third month running, albeit small, and still suggests prices are up by 2.5% year on year.
Taking into account the 'doom and gloom' in the press this year about job losses, failure of the high street, supposed forecasts of 35% price falls added to the rest of the constant 'bad news' about the impact of Brexit, it's astonishing how well the property market has survived so far this year – with the exception of some areas in London and in areas which have already seen growth in excess of 40% in prices since the credit crunch.
Key points
Approximately 29% difference in the average property price between Rightmove marketing prices and mortgaged Nationwide properties.
Annual property price rises range from 1.2% (Rightmove) through to 3.1% (UK HPI).
For more, see our data on the various national price reports.


Source: UK HPI
Nationwide this month, coupled with the UK HPI analysis, shows that all of the headlines and rhetoric from various reports claiming house prices have 'spiralled' over the 10-15 years are really inaccurate. And to tell people that the market is far tougher to access than it really is in many areas across the UK, I find quite odd. Why would we want to tell people they can't get onto the ladder, when so many actually could? Surely we should be telling people what great value properties are versus their cost 10 years ago in areas such as the Midlands, Yorkshire & Humber, North West, Wales, Scotland, Northern Ireland. The reality in many areas is that property prices have risen annually so much slower since 2005 (ie before the credit crunch) pretty much across the board, bar some areas within London, the South and East. The price growth that some have seen really isn't a reality across the UK and for me, we have a duty to tell people the truth, not let them believe the London-led rhetoric.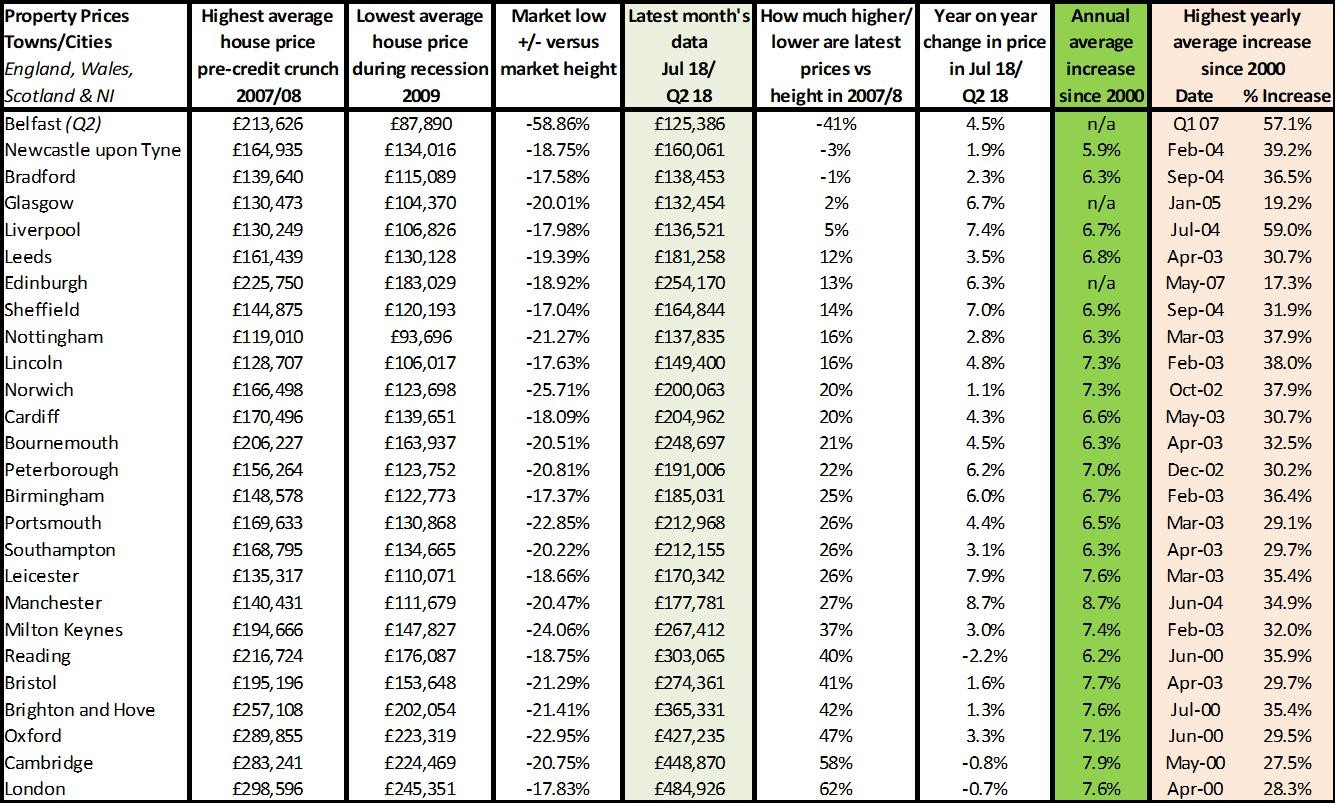 Source: UK HPI
The two worst performers on our list are currently Newcastle upon Tyne and Bradford. Versus the height of the credit crunch, prices are still down in Newcastle and Bradford 10 years on. However, despite not seeing any recovery, they also aren't seeing any real growth year on year, with increases according to the UK HPI of just +1.9% and +2.3% respectively. Other areas that are struggling to recover from the credit crunch, but are doing well year on year, suggesting they may be about to start seeing a recovery, are Liverpool and Glasgow. Up just 5% and 2% respectively, they are seeing strong growth year on year of around 7%, almost at annual average levels not seen for many years. However, previous power houses of growth: Reading, Cambridge and London which have increased prices from 40-62% are now seeing small but significant falls of approximately 1-2% as demand is choked off due to less buy-to-let investment and affordability issues starting to bite.
Overall, although the property market has survived a lot of bad news so far this year that is likely to run through to the autumn, I think people will put off buying and selling to post Brexit unless the industry can help people understand that it's not about buying into or selling out of the market at the 'best time', it's more about being able to afford a property you want now which, in our low stock environment, may not be at the 'perfect time' market wise, but is the right time for them, taking their circumstances into consideration.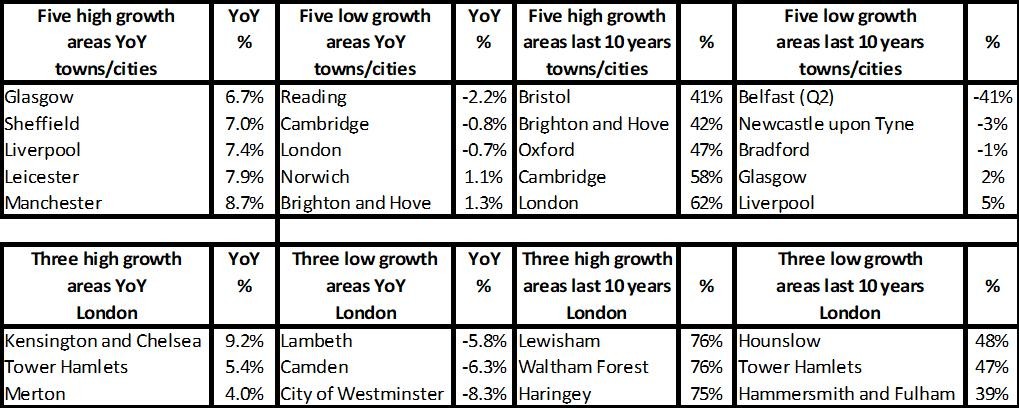 Source: UK HPI
For more, see our comprehensive regional and city data.
Transactions, supply and demand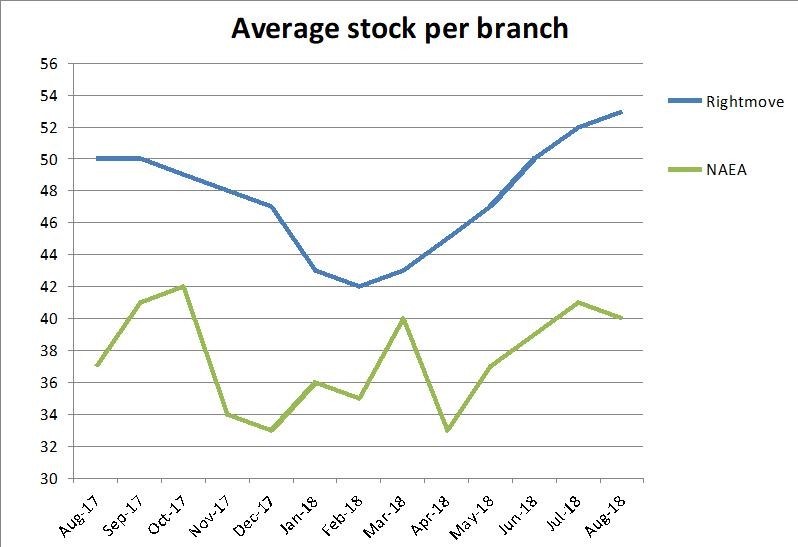 It's bizarre that when markets don't perform so well, many buyers and sellers get spooked. The reality is that when markets are struggling, for most, if you are financially sound, it is a great time to buy or sell. People tend to be more committed to doing deals and in the main, there is often more choice of properties to purchase, as is currently the case in many areas. The fear, though, is that prices may fall and no-one ever knows how long or far that would last for. Although some would-be first-time buyers have been seen on social media supporting house price falls, they have perhaps forgotten that during the credit crunch, 50% of first-time buyers left the market and did so in some cases for around five years. In contrast, the 'brave buyers and sellers' that moved in 2009 – which turned out to be the bottom of the market – have done pretty well. Somehow we have to find a way to help people understand that poor markets can be great times to buy and sell, not a time to worry and stay put. That's assuming of course, it's right for their financial circumstances and they could still hang onto the property if prices fell as they did during the last credit crunch.