publication date:
Feb 4, 2015
|
author/source:
Kate Faulkner, Property Expert and Author of Which? Property Books

Peter Cox Special Offer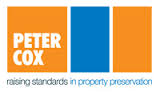 Peter Cox are Britain's largest and most established property preservation and can provide expert advice and specialist solutions for all sorts of different property problems.
it's February and time to do those jobs that we have all been putting off since before Christmas. Fortunately for Property Checklists members the great guys at Peter Cox are offering an incentive to get those jobs done this month, maybe even in time for Valentine's Day!
If you book your home preservation worrks with Peter Cox for Frebruary you will be entered into a prize draw with the chance to win £250.
To book your works and be in with a chance of winning, call your local Peter Cox office or ring 0800 789 500 if you'd like to go ahead with the outstanding property preservation works on your house.
Alternatively you can email enquiries@petercox.com with your property details and they can get your local office to contact you directly
For discouted show tickets and more offers visit our: