publication date:
Aug 10, 2016
|
author/source:
Kate Faulkner, Property Expert and Author of Which? Property Books
Latest news on the property market for BBC Radio Nottingham
Where are we now?
The latest data out for Nottingham is actually a new version which is a mix of the Land Registry data and also the Office of National Statistics. What it shows is that unlike the last set of data which suggested we had a few years to go before our house prices had caught up with the heights achieved in 2007/8, we've actually now recovered! Yeah!

Land Registry/UK HPI sold data - May 2016



This is pretty big news as it means that few home owners should be in negative equity and that means less people 'trapped' in a home they can't afford to sell.

What it also suggests is that prices are definitely on the up and although this data is pre the Brexit Vote, it's a pretty healthy growth rate and higher than the past increase of around 6-7%. So a good time to sell and as prices are only just slightly above the levels seen an astonishing NINE years ago, then prices are still pretty good value.

Home ownership – on the decline in most places, but that's to be expected!
With recent news suggesting home ownership is on the decline (see me and others chatting about this on BBC Breakfast), it's clear that with house prices at a similar level in Nottingham to almost a decade ago, there is more to a fall in buying property than affordability. Especially when you consider average prices in the City Centre are so low they don't even incur any stamp duty!

What's happening to Rents?
Around 21.6% of people rent in the City (Census data 2011) which isn't unusual for a city centre, some are up to 25 to 30%. So what's happening in the rental market?

Average rents in Nottingham



Source: Belvoir Lettings
Thanks to Belvoir's letting index, you can see that rents across Nottinghamshire are pretty steady in the West of the area at just under £550 per month, but rising steadily in the South West to approximately £600 per month suggesting a rise of 6% year on year. In the meantime Nottingham city rents are rising month on month, but this is normal seasonal movement and rents year on year are only showing a £10 a month increase.

Talking to Mark Philpot from Robert Ellis, there were some initial reactions to the Brexit vote, but although sited as a reason by some buyers for pulling out, it was probably just the usual post offer wobbles!

Currently, the team at Robert Ellis are finding much of their time is being spent using their expertise to hold sales between buyers and sellers together and keep chains going so lenders are lending, legal companies are doing everything they need to do and all involved are continuing to get the required paperwork and money transfers done on time.

Moving forward, more buyers are coming from the general buying and selling market as opposed to buy to let as people aren't keen to pay the government's new additional 3% stamp duty. However, this isn't impacting on prices as yet due to the shortage of stock for sale versus demand that exists in most places.

Having said that, Mark was saying that they have actually managed to buck the trend and secured more instructions this year than last so far. With regards to demand, this tends to come and go in 'waves' so it's difficult to assess a 'Brexit vote' impact as yet, but agreed sales are not much different to last year. The main issue is the offer accepted to completion process is taking longer to do and working with a proactive agent who has expert sales progression skills coupled with a consumer focused legal company can make the difference between a sale going through and collapsing.

Wow property for sale
6 bed detached house in Granby, Nottinghamshire.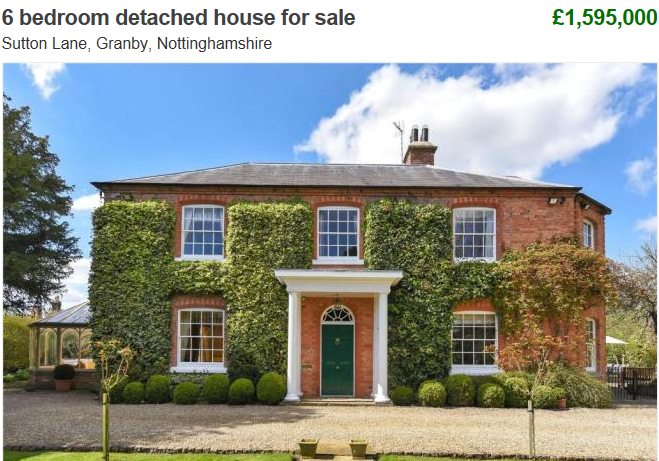 Bargain property for sale!
Needs a bit of work, but a three storey mid terrace two bed for around £60k, what a bargain! It's in Mansfield, needs a bit of work, but near the station.

Out of interest there were 375 returns from Rightmove for properties under £60k, so plenty of affordable homes.