publication date:
Jun 12, 2019
|
author/source:
Kate Faulkner, Property Expert and Author of Which? Property Books

Will 2019 continue to stagnate or see a rebound?
National price analysis
Nationally, Rightmove which reflects sellers' views on what should be happening to house prices, suggests a slight uptick, but this is not reflected in actual prices when properties are sold – with LSL and Nationwide showing very little change. The recent discussions about accuracy of the Halifax price index are a little dated in my view, we reported issues with the index, as far as the headline prices, when the recession started, and it's often differed from everyone else's. However, their long term analysis of different property prices, areas and deposits as well as transaction information they provide, continues to be useful.
Country price summary
Country differences remain fairly large, with England slowing down to an almost 'stop' for price growth while Scotland, Wales and Northern Ireland also slowing this month, but remain up year on year by 3%. Comparing annual property price rises versus 2005, the recession and year on year, a trend of 3% increases does appear to be more of a 'norm' in the market – not the 6-7% we see if we take average prices back before 2005.
For the full analysis, read Kate's report here
Regional price analysis
A recent survey by Zoopla says that "Confident homeowners predict 4.8% house price growth" Source Zoopla. Fortunately, not everyone thinks this will happen or the market could grind to a halt even more than it already has in some areas! So, for those in Yorkshire & The Humber, the North West, Scotland, Wales, the North East and Midlands, price rises of around 5% are expected, while in London and the South East, falls are expected of up to 6.7%. What this potentially shows is that agents, surveyors and brokers have to ensure buyers and sellers understand the local market and the true value of their home. Some may be too optimistic, holding back sales through overpricing, while others may be unnecessarily pessimistic, not selling where in actual fact they have a good property in a decent area and with general poor availability of stock, this may be the right time for them to buy and sell.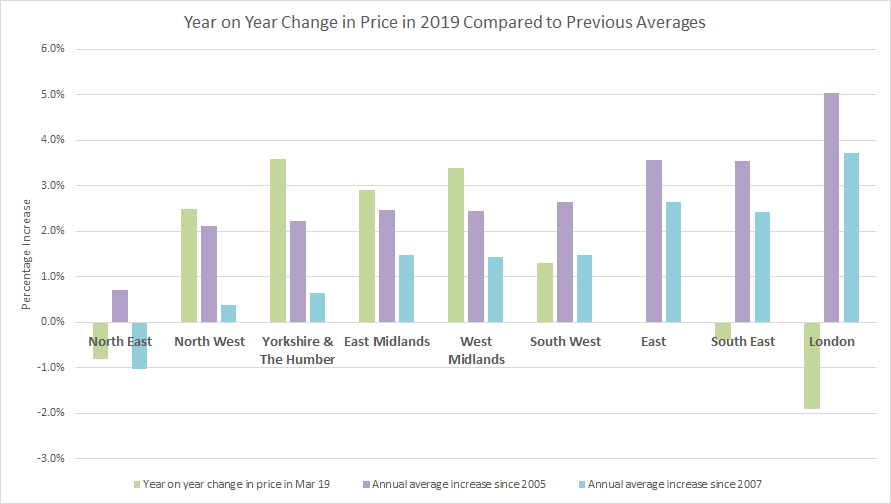 Source: UK HPI
Towns and cities price summary
I keep staring at the town and city differences, astonished at the complete erratic nature of property price growth – or declines across the country. Considering there is now talk of a recession – 2020 or 2021 if global, it's hard to see in some areas how property prices will be affected, when they just haven't recovered from the last recession. Areas like Liverpool which are doing well year on year – almost 4% up, have actually only grown by 1% since 2007, so a loss in real terms. Other areas such as Newcastle and Bradford are, on average still below prices seen in 2007, yet they aren't seeing a resurgence now either, with falls of -2% or no growth at all respectively. The country is used to property prices edging up higher than inflation, on average, each year and this fuels people's ability to trade up or if trading down, fund a better pension lifestyle, but looking at these figures, that is a rare occurrence in most places and in the areas where it has happened such as Milton Keynes, Brighton and Hove, London, Bristol and Reading, prices are now falling (on average). If the forecasted next recession hits, who knows what impact this will have on property prices. Perhaps though if mortgage rates remain low, we may not see the falls we have in past downturns – but until then, property is still a 'boom and bust' market, so everyone needs to carefully 'brace' themselves for impact. Just in case.
Demand, supply and transactions
If there is one thing that might reduce the impact of a recession it's the little stock that's currently on the market while demand is still relatively strong. First time buyers, although falling according to UK Finance, are propping up the market currently with the fall off of buy to let investors – at least in the south. However the most interesting data this month comes from a recent report by Cushman and Wakefield which shows just how differently markets are performing from a transaction perspective with "Less than 1-in-50 houses in LB Brent sold during 2018, where in contrast, Northamptonshire appears to be the most functional market, with three of its Local Authorities appearing in our top 15. On average, 1-in-20 homes in the County were sold during 2018." Good news for agents in Northampton!
For more in depth analysis, read Kate's price report here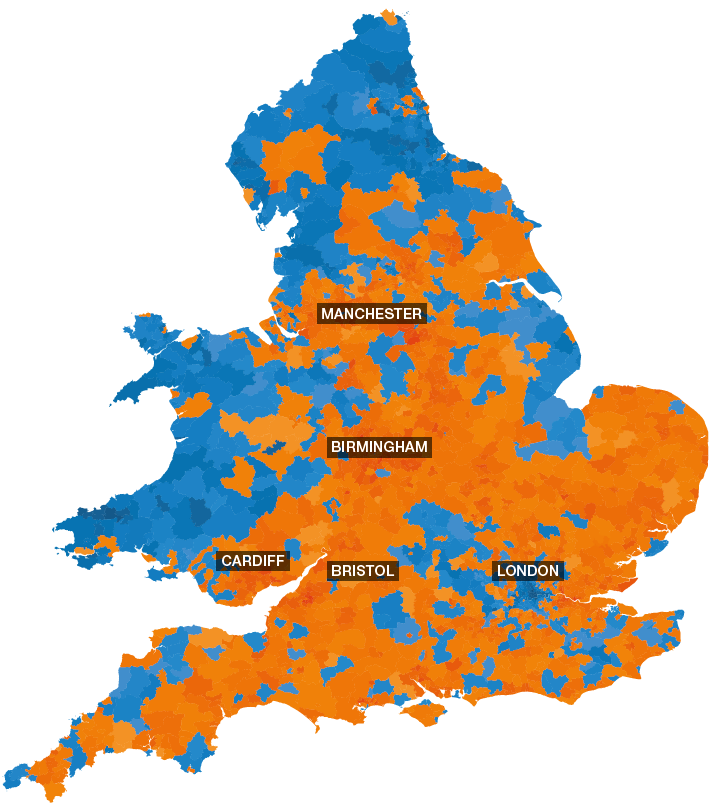 Source: The Advisory