How are buyers getting on around the UK?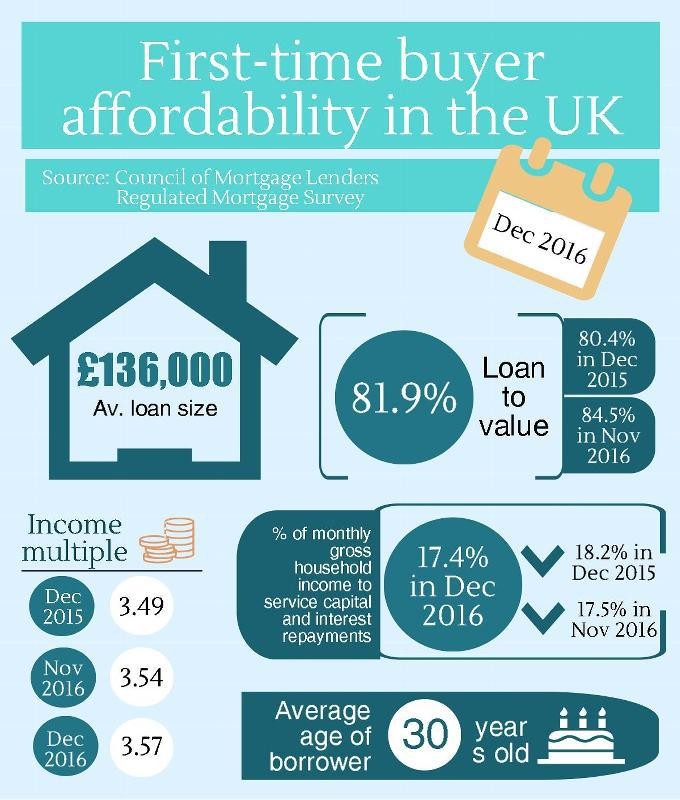 The Council of Mortgage Lenders have recently published their home buyer analysis for the UK, plus specific thoughts on London, Wales, Northern Ireland and Scotland – here is a summary and a few of my thoughts.
National picture
In 2016 home buyers borrowed 127.7 billion up 7% from the previous year – this came in the form of 698,000 loans, 3% more than in 2015.
First-time buyers borrowed more than £53 billion to buy houses last year, a rise of 13% from 2015. There was an 8% increase in loans from 2015 to just under 340,000 with buyers borrowing more in 2016 than ever seen before since the CML began recording in the mid 1970s.
Home movers borrowed £74.3 billion, a 3% increase on 2015, despite actually taking out 2% fewer loans, a tad over 360,000. In terms of remortgaging – activity rose by 20% by value and 14% by volume amongst home owners compared to the previous year. In fact, the amount of remortgage loans was at its highest since 2009.
Paul Smee, director general of the CML, commented:
"2016 could have been a potentially destabilising year of regulatory and political change, but the mortgage market has been resilient and adaptable. Home-owner house purchase lending increased, though the buy-to-let sector's positive lending performance has been driven primarily by remortgaging. We do not expect the market volumes to show a year-on-year increase in 2017, instead it will remain similar to that achieved in 2016."
It's good news that there are so many first time buyers now getting onto the ladder. The much criticised 'help to buy' scheme has been instrumental in getting people out to look at new homes and getting onto the ladder, which is great news. Depsite all the doom and gloom by the government, media and many lobby groups, it is clear that property is, for many, not a few, still affordable. especially when you move outside of the likes of London and the South.
Looking for your first home? Read our first-time buyer quick guide.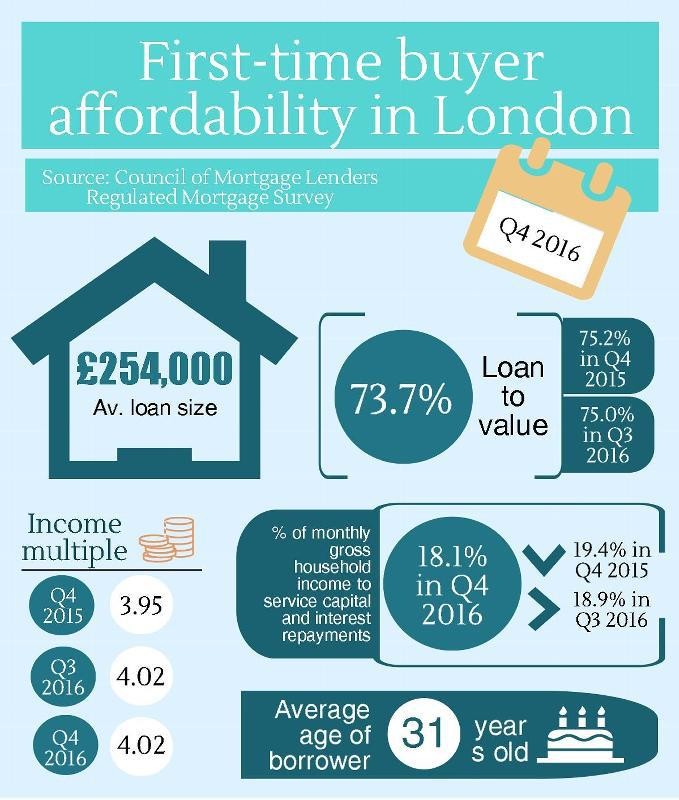 Last year Londoners borrowed £24.5 billion to buy homes, a drop of 0.4% from 2015. Residents of the capital also took out fewer loans than the previous year, 75,800, a fall of 7% compared to 2015.
In 2016 first-time buyers borrowed almost £12 billion, up 3% from 2015. However, there were 5 % fewer loans, totalling 43,300 last year.
Those moving in 2016 borrowed £12.5 billion in the form of 32,400 loans – down 10% by volume and 3% by value on 2015.
Remortgaging added up to £16.5 billion in 2016%, up 21% - this came from 55,500 loans, 13% more than in 2015.
Paul Smee, CML director general, commented:
"The number of home buyers in London fell to a four year low in 2016. Home mover activity in particular continues a downward trend, with the fewest loans since 1991. Persisting supply and affordability issues appear to be exerting an ongoing restraint on growth, meaning there is some uncertainty around how the market will perform going into 2017.
By contrast, remortgage activity appears to be experiencing a resurgence. Competitive mortgage rates aided by low interest rates have sparked remortgage levels not seen in the Capital since 2008."
Possibly for the first time since 2000 a ceiling has been put on what people can afford in lending. With harsher criteria for securing a mortgage, the need for FTBs to borrow under repayment only and with caps on the amount of lending at 4.5 income levels, this restricts what people can borrow and buy.
What's interesting is that the average age is still31 in London and indeed that the loan size they secure is lower than the average for UK FTBs. Based on affordability issues, it would be expected to be a lot higher.
And for those that are struggling to get onto the ladder, here is agreat shared ownership scheme available, even allowing you to buy for less than £70,000 in our Capital City!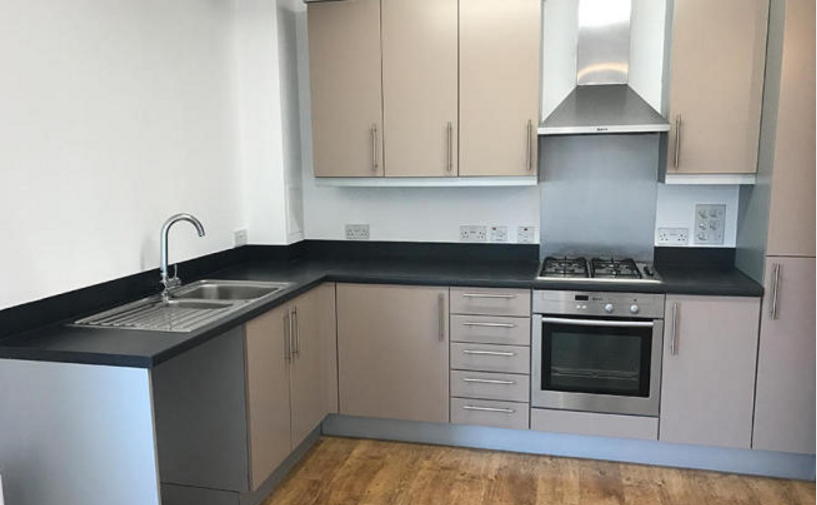 Location: London, E7
Price: £69,988 for 25% shared ownership
Deposit: £3,499.40 assuming 5%
Looking for shared ownership opportunities? Read our expert checklist.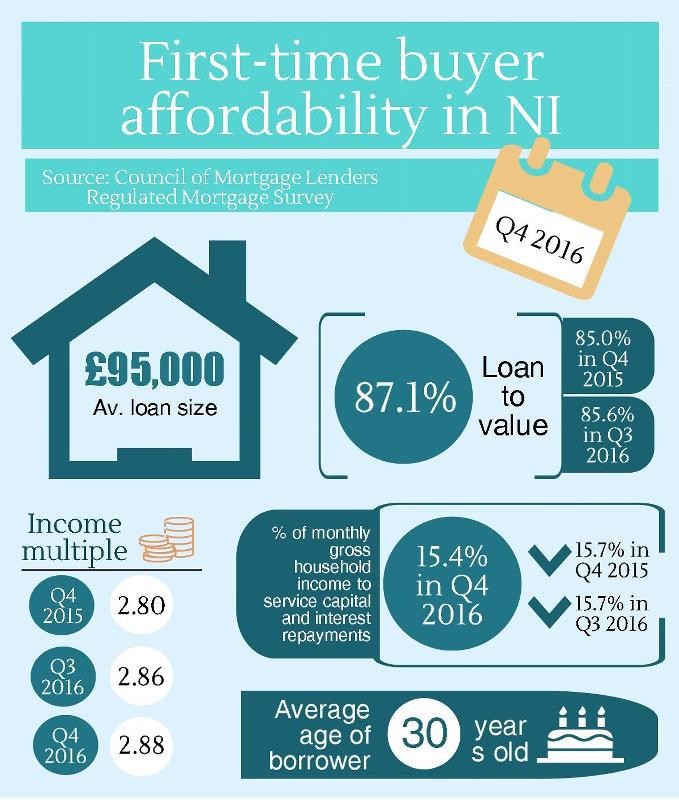 In 2016 home buyers in Northern Ireland borrowed £1.5 billion, 11% more than in 2015. They also took out a greater number of loans, 13,800, 5% from the previous year.
People getting on the ladder for the first time borrowed £ 780 million, an increase of 18% on 2015. There were 8,000 loans – 7% more than in the previous 12 months.
Movers borrowed slightly less than FTBs at £710 million, but this came from 5,800 loans and was still a rise of 2% by volume and 4% by volume.
Borrowing for those deciding to remortgage matched that of first-time buyers and was an increase of 13% on the previous year. There were 7,400 loans, 9% more than in 2015.
Derek Wilson, CML Northern Ireland chair, commented:
"The UK overall saw lending fall in the fourth quarter, but in Northern Ireland lending rose, led by first-time buyers. 2016 was the strongest year for house purchase lending since 2007. Affordability compares favourably with the UK as a whole, and we anticipate a steady market in 2017."
Comparing affordability in Northern Ireland to London shows a stark contrast with loans under £100,000 versus nearly £250,000 in London. What is also interesting is that FTBs in this area borrow more too – so put down smaller deposits, even though property, in theory is more afforadible. The average age though is just 30 versus 31 in London and income multiples are hugely different either, not even requiring FTBs to borrow as much as 3x their salary.
These figures make the often quoted 'averages' in property prices and costs for first time buyers and the 'impossbile' task of getting on the ladder ridiculous statements. Property prices are extremely regional and making broad statements based on averages can put people off buying when many are perfectly capable of affording it.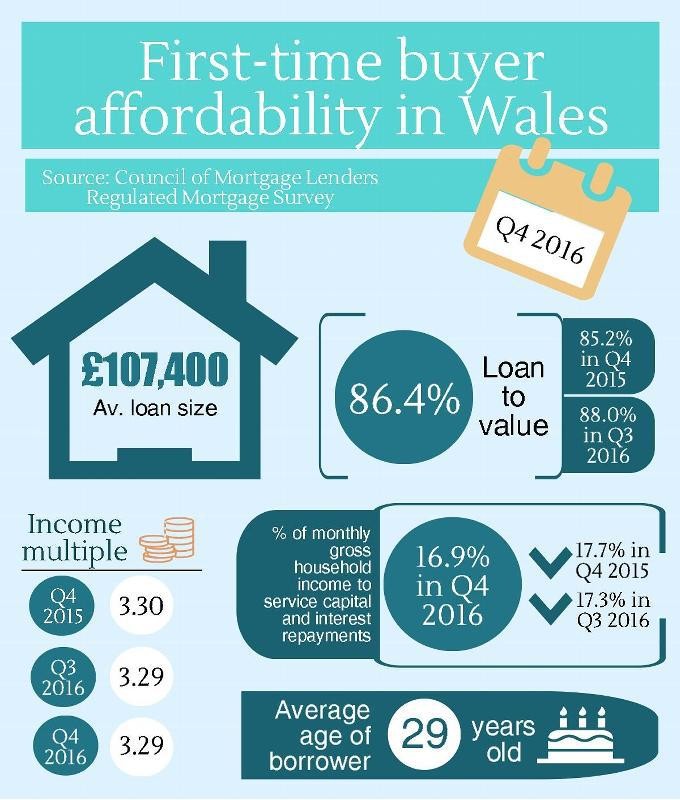 In 2016 home buyers borrowed a total of £3.9 billion – an 11% increase from 2015. Almost 30,000 loans were taken, 7% more than the previous year.
First-time buyers took out £1.7 billion in loans – an increase in 17% from 2015. This added up to 14,700 loans, 11% more than the 12 months prior.
Those moving home borrowed £2.2 billion with 14,900 loans – a 2% increase by volume and 7% by value from2015.
For remortgagers in Wales borrowing came to £1.8 billion – a 14% increase on 2015. There were 16,200 loans, 12% more than the previous year.
Julie Ann Haines, CML Cymru chair, commented:
"More people took out mortgages to buy homes in Wales in 2016 than in any year since 2007. It is particularly notable that first-time buyers accounted for a greater share of lending than in any year since 1999, and affordability in Wales compares positively with the UK as a whole."
Since the credit crunch it has made a lot of sense for people in Wales to rent rather than buy their first home, especially as house prices have taken so long – nearly a decade to recover.
What's great news is that FTBs are now looking at purchasing again and the level of borrowing is pretty reasonable – as is the deposit they are finding, especially as many only need 5%, not the 13.6% they are putting down. It's also good that in this area, FTBs are getting on the ladder before they are 30, again confounding much of the media speculation about the average age of a FTB and other surveys saying it takes decades for people to save to buy a home.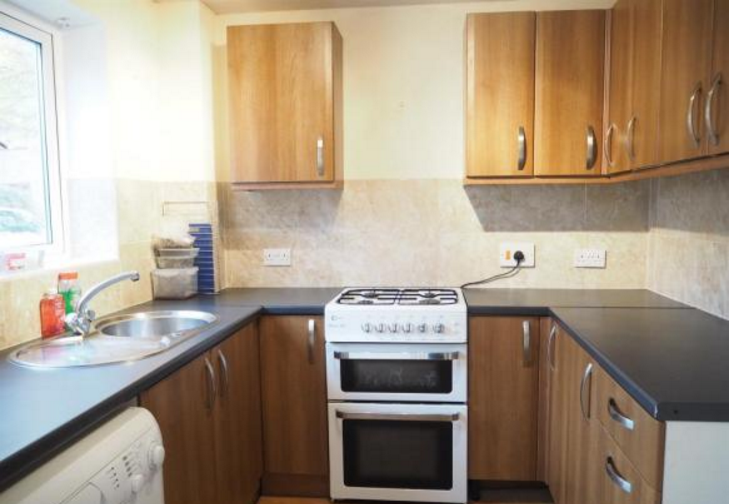 Location: Newport
Price: £46,000 for 40% shared ownership
Deposit: £2,300 assuming 5%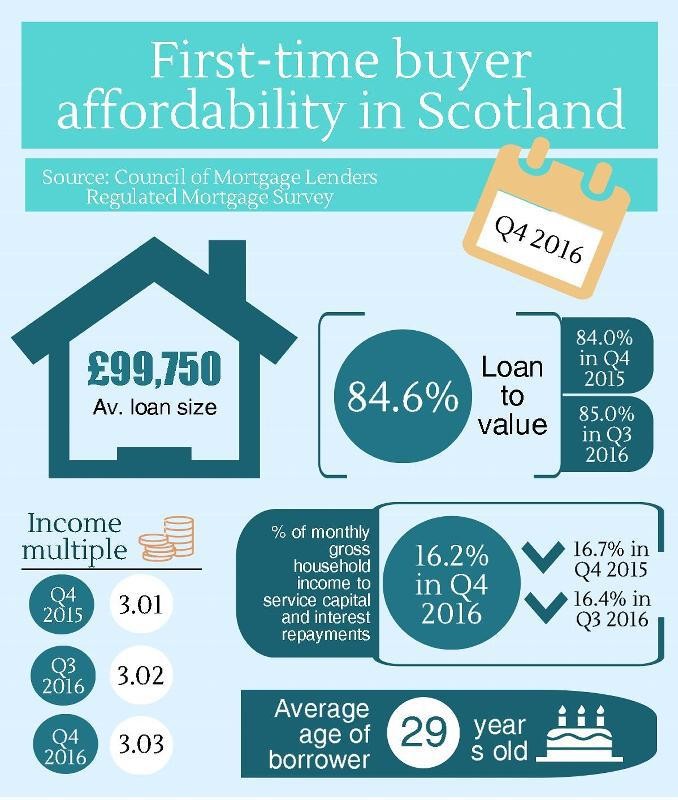 Last year home buyers north of the border borrowed £8.3 billion – 3% less than in 2015. Scots took out 63,500 loans – 2% fewer than the previous 12 months.
When it comes to first-time buyers, they borrowed £3.4 billion – 5% up on 2015. 31,400 loans were taken out by FTBs in Scotland, 5% more than in 2015.
Movers borrowed £4.9 billion, taking out 32,100 loans – this equates to a drop of 8% by volume and 7% by value compared to 2015.
Remortgaging added up to £3.4 billion – 10% higher than the previous year. 27,900 loans were taken out in 2016, up 6% on 2015.
Carol Anderson, CML Scotland chair, commented:
"First-time buyer lending continues to show healthy annual growth in Scotland. Overall, the picture is of a steady market, with affordability comparing favourably with the UK as a whole."
Scotland as with Northern Ireland appears to have good levels of affordability with people spending just 3x their income on buying a home and getting on the ladder before they are 30 years old.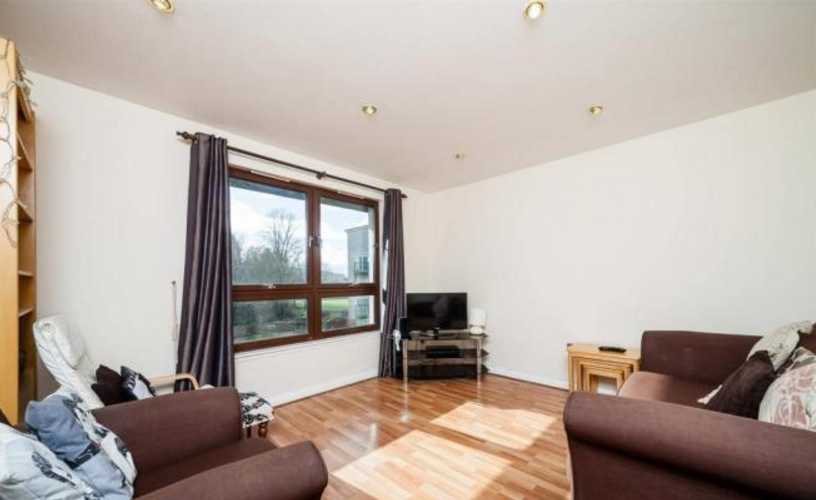 Location: Perth
Price: £27,950 for 25% shared ownership
Deposit: £1,397.50 assuming 5%.