publication date:
May 23, 2018
|
author/source:
Kate Faulkner, Property Expert and Author of Which? Property Books

Lets with pets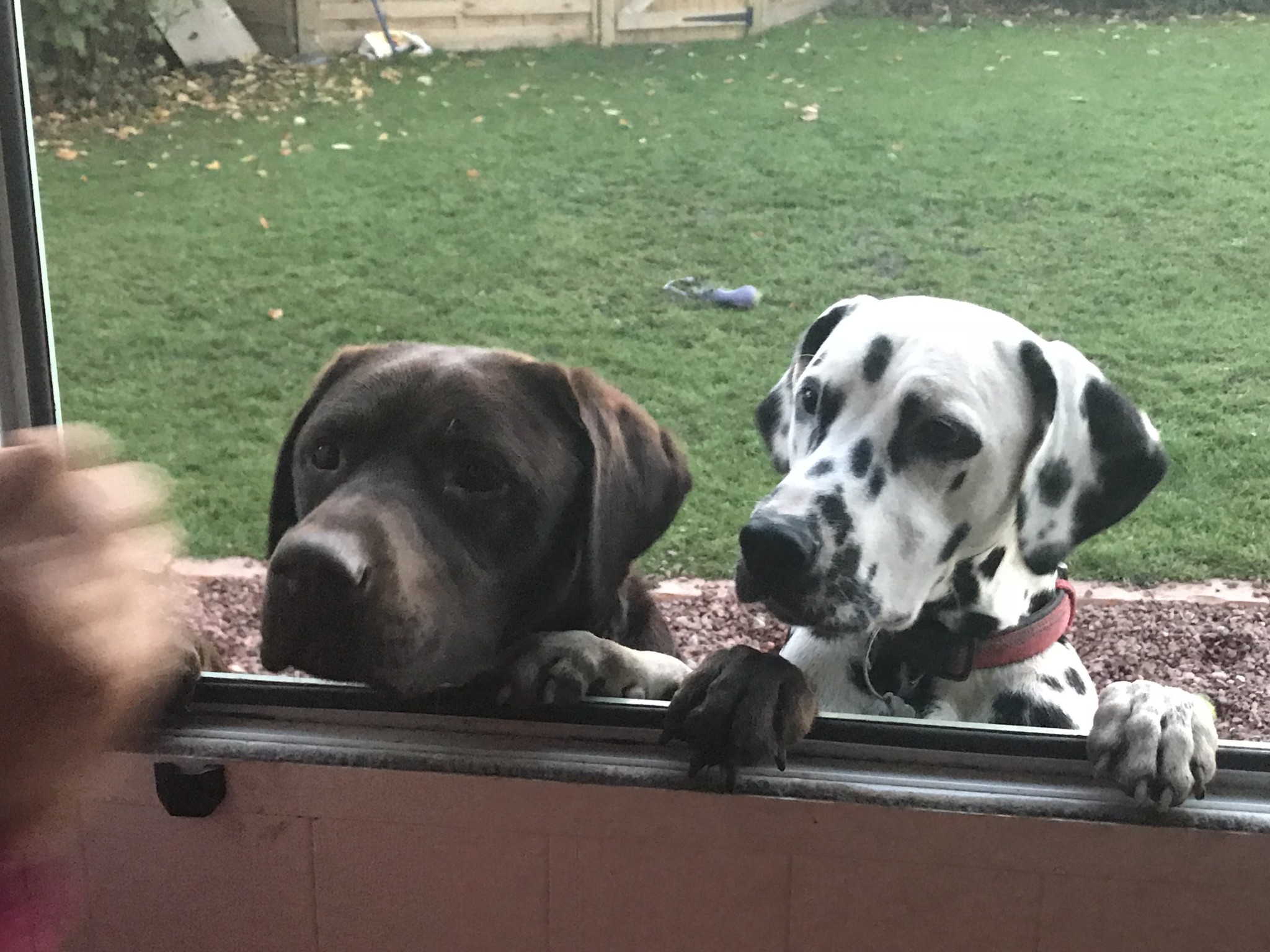 As may or may not know, I am the proud owner of a lovely young Dalmatian called Wizard and a big supporter of the Dogs Trust and their Lets with Pets scheme. We love our pets in the UK and renters should not be punished for having an animal companion or ten!
Sadly I know from my work with in the PRS that animals are not always welcomed by landlords, which is a real shame as tenants typically stay longer in homes that allow pets and will normally happily offer:
A higher deposit

A deep clean
So there are plenty of good reasons why pets should be accepted. The good news is that with the rise of long term 'professional' landlords such as Legal and General, many of these 'build to rent' owners are happy to allow pets. And with nearly 100,000 new properties being built by this sector over the coming years, hopefully renting with a pet will get easier.
However, at the moment it's still tough and according to recent research from the Pet Food Manufacturers' Association in 2018 with nearly half of households in the UK owning pets and with the private rental sector growing, it is increasingly important that pets are accepted into rental accommodation.
Some useful research from Fasthomes showed which London boroughs are most welcoming of pets for renters. They studied figures from Zoopla over a one month period to analyse how many properties per London borough allow pets.
The top 5 pet-friendly London boroughs are:
The least pet-friendly London boroughs are:
Redbridge (5)

Barking and Dagenham (3)

Bexley (3)

Sutton (3)

City of London (1)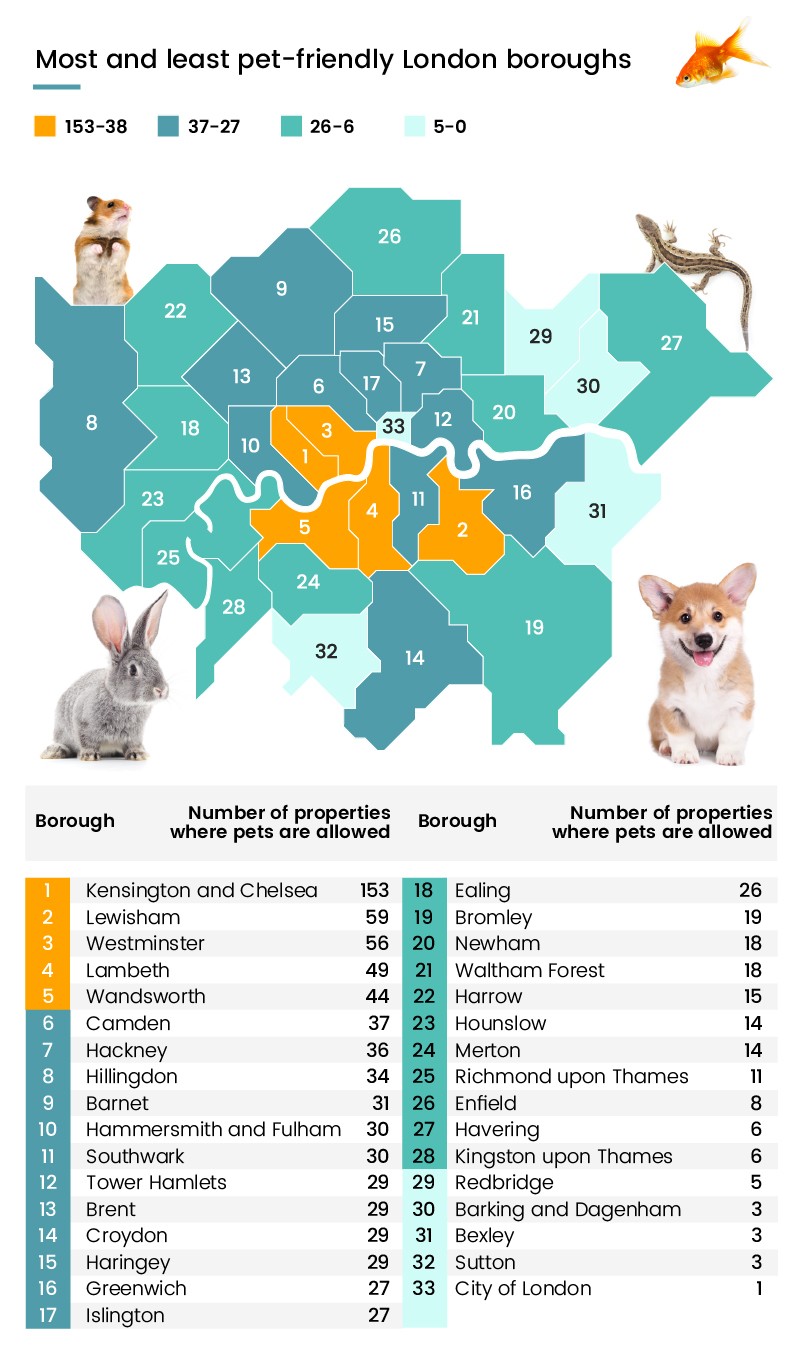 And for those of you that do have pets and need to find a home, the Lets with Pets campaign has really useful documents to help you secure a rental home and also shows agents who do their best to encourage landlords to be 'pet friendly'.
Lets with pets
Lets with Pets was started by the Dogs Trust in 2009 with the aim of encourage landlords and letting agents to take on tenants with pets and to make it easier for them to find animal friendly home. There website has great resources for landlords, agents and tenants including case studies, top-tips and good practice packs.
Top tips for tenants:
Be honest and flexible;

Get a reference for your pet and introduce it your landlord;

Get written permission from the landlord.
For more tenant tips visit: www.letswithpets.org.uk/find-a-pet-friendly-property/top-ten-tips
Good practice guidelines for letting agents:
Explain the benefits of being pet-friendly to all your landlords;

Encourage your landlords to advertise their properties as 'Pets Considered' so they can decide on a case by case basis;

Advertise your Pets Considered properties clearly on your website and property details.
Good practice guidelines for landlords:
Advertise as 'Pets Considered' so you can make a decision on a case by case basis;

Add a pet clause to your standard tenancy agreement when a pet has been agreed;

Make sure any additional deposit taken for the pet is held in an approved tenancy deposit protection scheme.
To order a good practice guide for landlords and letting agents visit: To order a good practice pack for agents visit: www.letswithpets.org.uk/letting-agencies/order-a-pack-agencies
Finally, it can help a lot if your dog is well trained. I've used the East Midlands Dogs Trust training and have found it superb. They have helped myself and Wizard with recall and also with a fabulous Foundation Course which helped me understand how Wizard learns and also what I needed to do better to train him well in basic social skills.
So if your pooch would benefit from some training, do get in touch with them on 01509 882316 or enquire online here.