publication date:
Jul 20, 2015
|
author/source:
Kate Faulkner, Property Expert and Author of Which? Property Books

Mark Carney of the Bank of England sets out interest rate rise plan
With the Americans in the process of advising everyone that interest rates are going to rise there in 2015, the Bank of England governor Mark Carney has indicated rates may also rise in the UK.

The plan is very clear – but it's worth knowing that every time over the last few years Mark Carney has talked about raising interest rates, he and the MPC committee who's decision it is to raise them, have shied away.

So what are the planned interest rate changes in the UK?
The indications which have been set out by Mark Carney and the Bank of England are:-
Historic bank base rate over the last 300 years was 4.5%

Expectation is that the 'new' normal will be perhaps half this rate ie 2%
The indication is that the first bank base rate rise may be at the 'turn of the year' ie towards or after Christmas in early 2016.

What will the planned interest rate changes cost you?
The Halifax have produced a helpful table which lays out the cost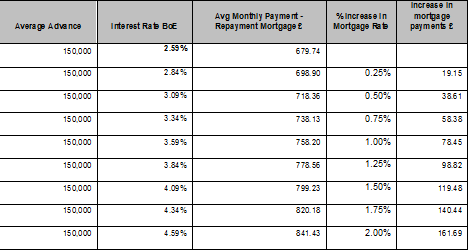 What should you be doing to reduce the impact of interest rate increases?
If you are a saver, it's likely the changes will work in your favour, however if you are borrowing money via a mortgage, then it could impact, very quickly, on your mortgage payments.

What you need to know or think about with interest rate rises:-
We don't know yet whether a move from current 0.5% to the 2.59% interest rate will all be passed onto you the customer.





If you are currently on a mortgage interest rate of 3% versus a 0.5% bank base rate, then this may mean they put up your mortgage to 3% + 2.09% = 5.09%.





However, most mortgage brokers appear to think the whole rise will be passed on.

When the rates rise, if the mortgage rate is to be increased, typically the higher amount will apply on your next mortgage payment, so it could be within a month or even less. Check with your broker/lender and the terms and conditions of your mortgage.

The expectations are that interest rates will increase longer term to 2-3%. Over the history of bank rates, they have been around 4%, so although mortgage rates may remain lower in the future, they are still likely to rise from the current low rates or 3% or less.

If you want to mitigate the impact of interest rate rises, then think about visiting a regulated, independent mortgage broker who may be able to find a mortgage deal that will help ease any potential big increases.

If you are a buy to let investor, then it is essential to speak to a mortgage broker as above, but also a property tax expert to best understand how the reduction in mortgage tax relief on the interest element of mortgage payments will impact on your existing and any future buy to let finances.
Even if you are only a basic rate tax payer, not effected by the changes in tax relief, it is worth taking these steps – if this has little impact on the buy to let market, then a future government may consider taking away all the mortgage relief.
Better to be forewarned and forearmed than invest now and not take this risk into account.

For FREE, independent and up to date advice on buying, selling and renting a home, sign up for FREE to Propertychecklists. Join now to access our FREE property checklists, including:-